Recycling and Repairs
RECYCLING
There are lots of ways to recycle most things we consume these days. This includes plastics and packaging, paper, glass, electrical equipment, batteries, water filters and clothes to name but a few.
It is important to remember, when you are throwing things away, to distinguish between what is relatively clean and can be recycled and what is contaminated and cannot be recycled.
If you put contaminated items (e.g. covered in tomato sauce) in with clean products (e.g. plastic packaging) for recycling, you defeat the object because it is all treated as contaminated and none of it gets recycled. Taking a little care is really worthwhile.
Cutting down on packaging of all kinds is a good habit and recycling what you can helps to reduce your carbon footprint just that little bit more.
Some retailers are now committed to recycling some forms of packaging. We have included some information below on collection points in Amersham.
St Michael & All Angels C of E Church I 70 Sycamore Road, Amersham HP6 5DR I Google Map
Pringle tubes
Plastic writing implements: pens, felt tips, markers
Specsavers I 51 Sycamore Road, Amersham HP6 5EQ I Google Map
Used toothpaste tubes (not pumps)
Used toothbrushes
Used electric toothbrush heads
Brendan O'Sullivan Hair and Beauty Salon I 3A Sycamore Rd, Amersham HP6 5EQ I Google Map
Used makeup:
Mascara
Lipsticks, lip gloss tubes and lip balms
Eye shadow contacts
Lip and cheek highlighters
Bronzer sticks
Post Office I 1 Sycamore Place, Amersham HP6 5BG I Google Map
Used Ferrero Roche boxes
Used marigold gloves
Amersham Recycles for Medic to Medic accepts many non kerbside collected waste streams. Drop off in the yellow wheelie bin at Newlyn Corner, Sycamore Close, Amersham HP6 6BW any time. It is essential that waste is kept like with like as it cannot be hand sorted.
For more details on what can be taken for recycling and where see their Facebook page : https://www.facebook.com/groups/600866414174513
REPAIRS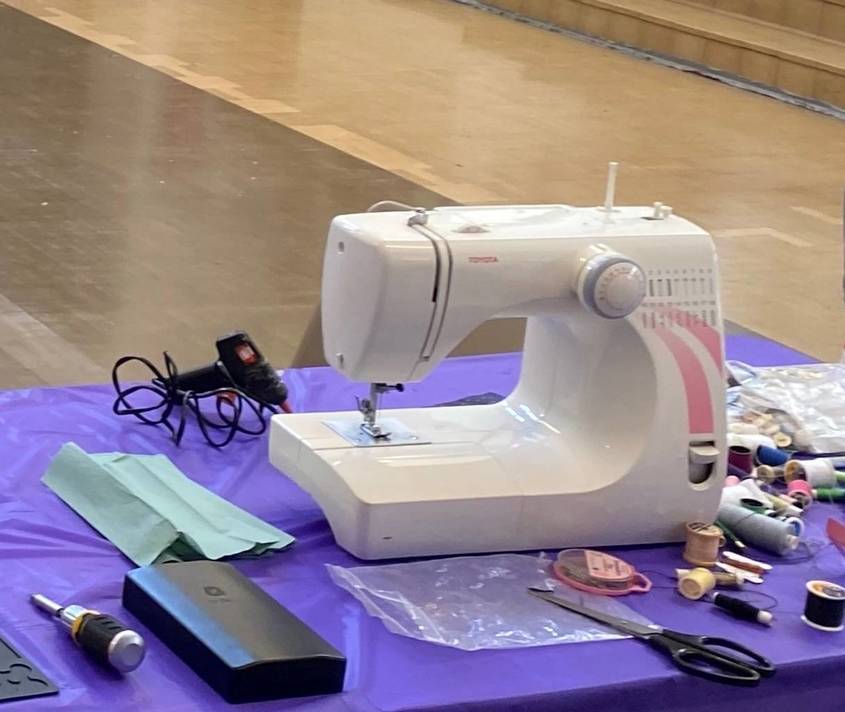 We can save a lot on plastic, pollution and carbon emissions by getting things repaired instead of throwing them away and buying a new replacement. Lots of things are capable of repair. There are videos e.g. on YouTube to show you how to do it. And there are local people who offer a repair service, e.g. dry cleaners.
A local pop-up Repair Café is now established, and details can be found https://www.recycleforbuckinghamshire.co.uk/repair
How can we help you?
The Town Council offers a range of good value services and facilities to Amersham residents and visitors.
We are committed to improving the quality of our facilities and we value your comments and feedback on future improvements.
Contacts
Recent News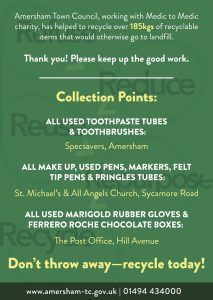 Amersham Town Council, working with Medic to Medic charity, has helped to recycle over 185kgs of recyclable items that would otherwise go to landfill. Thank you! Please keep up the good work.
Read More