Recreation Grounds and Open Spaces

HERVINES PARK
Hervines Park is located at the bottom of Hervines Road in Amersham on the Hill. The Park has a large recreation ground which can accommodate various sports including football. Amersham Bowls Club play their home matches at Hervines' using the outside bowling green and local schools visit Hervines Park to take advantage of the summer running track and children's playground. A great community asset!

BARN MEADOW
Barn Meadow is located at the heart of Old Amersham opposite St. Mary's Primary School. Barn Meadow plays host to a number of leisure activities including football and cricket as well as the children's playground and is particularly popular with dog walkers. A perfect space to take in scenes of the picturesque Old Town!

KING GEORGE V PLAYING FIELD
King George V Playing Field is located next to the Buckinghamshire Council offices in Amersham on the Hill. The award winning, KGV Playing Field was recently presented with the award for Best Play Initiative in the Fields in Trust Annual Awards! This was in recognition of our Infant Playground. The field also accommodates ball sports and its skate park, outdoor fitness circuit and Street Snooker facilities make KGV very popular indeed! King George V Playing Field has, in the past, also been the home to Amersham Carnival and the Buckinghamshire Council Family Fun Day!

MEMORIAL GARDENS – OLD AMERSHAM
The Memorial Gardens are located in the heart of Old Amersham. As well as being the perfect place for quiet reflection, the Memorial Gardens commemorate the lives of soldiers lost in both World War I and World War II. ATC also hold our ever popular Summer Band Concerts here every other Sunday from May to September!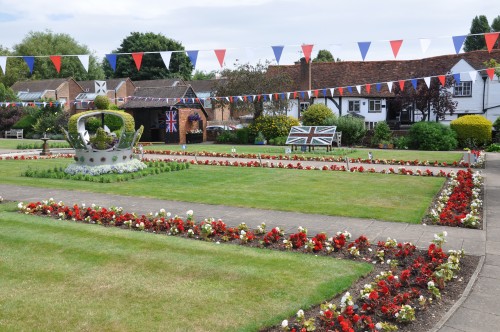 REGULAR USERS OF AMERSHAM'S RECREATION GROUNDS AND OPEN SPACES:
Name of Class: LL FITNESS
Type of Class: Fitness Class
Organiser: Lyndsay Nevill
Location: Barn Meadow Playing Field
How can we help you?
The Town Council offers a range of good value services and facilities to Amersham residents and visitors.
We are committed to improving the quality of our facilities and we value your comments and feedback on future improvements.
Contacts