Consumers and Sustainability
We are all consumers: we all buy things and what we buy and where can make a big difference to our carbon footprint. Whether it is food, clothes, energy, a vehicle, we all "consume" every day. Buying less, and making it last longer, including making repairs, and buying secondhand can help. When you no longer want something you may be able to give it away or sell it on, so it can be used by someone else, for example via eBay or Gumtree or Freecycle. A lot can be recycled.
TOOLS
Workaid is a Chesham-based charity that refurbishes donated tools and ships them to vocational training centres in Africa. By donating your unwanted tools and equipment, you can change lives and help the environment. Workaid saves approximately 80 tonnes of tools from landfill every year. For a full list of items you can donate please visit: https://workaid.org/donate-tools
FASHION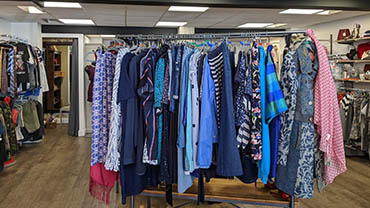 Clothes typically account for a substantial portion of an individual's carbon footprint.
The clothing industry uses roughly 20% of the world's fresh water resources every year. Water is a precious resource and in some parts of the world is now very scarce.
Cheap clothes are often imported from very poor countries and are not valued in the same way as better quality and more expensive ones. They are often thrown away after little use. Particularly where they are not made of biodegradable material, they contribute hugely to our carbon footprint and pollution problems. For example, polyester is an oil-based material and does not biodegrade. In contrast cotton and wool are natural materials and will biodegrade. If clothing is recycled, donated to charity or otherwise re-purposed, its carbon footprint can be much reduced.
PLASTICS AND PACKAGING
We use a huge amount of plastic and a lot of it could be avoided. It is used in packaging, consumer goods, clothes( e.g. polyester) and countless household items. There are microplastics in washing liquids…. Big or tiny, plastics are a huge polluter, because they are not biodegradable and when they go into landfill, or end up in the ocean, they cause terrible problems. The good news is that unnecessary plastic is being removed from all sorts of products, for example some brands of baby wipes.
A lot of plastic can now be recycled. Many retailers now accept plastic packaging of all kinds ( such as clean clingfilm, crisp packets etc.) for recycling. See the Recycling and Repair section for more information.
SUSTAINABILITY
Sustainable Amersham is a local community group concerned to address the devastating impacts of climate change, pollution, and biodiversity loss. They work together with local government, businesses and community organisations in Amersham and Chesham Bois, and welcome new members , needed to help with projects. Their very useful website, packed with information and ideas is at: http://sustainableamersham.org
Wycombe Friends of the Earth (http://www.wycombefoe.org.uk) is a local campaigning group affiliated to national charity Friends of the Earth, and is active throughout south Buckinghamshire. It aims to promote awareness of environmental issues and to help address them at a local level.
How can we help you?
The Town Council offers a range of good value services and facilities to Amersham residents and visitors.
We are committed to improving the quality of our facilities and we value your comments and feedback on future improvements.
Contacts
Recent News
Have those New Year's resolutions lasted? If we each were to pick just one thing and pursue it through the year, we could make a real difference to our environment and help reduce our carbon footprint. How about these suggestions: 1 Buy a reusable cup for those takeaway drinks. If you keep it by your […]
Read More