Depot Services
Busy Depot Working at the Heart of the Community
The Town Council Depot, based at Hervines Park, is our most visible asset working in and around the Community. Our Depot is one of the biggest and most professional Depot facilities in the area.
We employ ten groundsmen with a range of skills to carry out all kinds of projects, such as:
Planting and maintaining the show piece Memorial Gardens in Old Amersham.
Maintaining our three sports fields and play areas at Hervines Park, Barn Meadow and King George V Playing Fields. This includes the preparation and lines for cricket, football and rugby matches, the maintenance of sports pavilions and playground inspections.
Maintenance of the three cemeteries – St Mary's, The Platt and Stanley Hill, including grave digging.
The upkeep of three allotment sites – the Pyghtle; Woodside Road and White Lion Road.
The maintenance of our woodlands – Parsonage Woods; Willow Wood and Hervines Wood.
Maintenance of municipal grass areas; hedges; signature flowerbeds; planters and hanging baskets.
Road closures and attendance at Amersham Town Council events, and on request at Community events.
DEVOLVED SERVICES
Amersham Town Council's Depot has been working for neighbouring parishes for many years, carrying out works devolved down from Buckinghamshire Council – on roads of 30 or 40mph only.
We carry out devolved work for the following Parish Councils: Beaconsfield, Chenies, Gerrards Cross and Little Chalfont.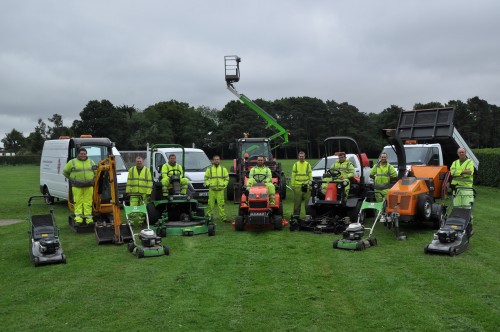 How can we help you?
The Town Council offers a range of good value services and facilities to Amersham residents and visitors.
We are committed to improving the quality of our facilities and we value your comments and feedback on future improvements.
Contacts