Christmas

Amersham Town Council is proud to provide Christmas lights in Old Amersham and Amersham-on-the-Hill. The Town Council also arrange the Mayor's Annual Community Carol Concert. The wonderful evening features performances by local schools and bands. Members of the public are welcome to attend and join us for the festivities. We are proud to assist with a number of other activities in the town.
This year there will be a new Christmas evening in the Old Town, sponsored by the Amersham & Villages Community Board, the Old Amersham Revite Group and Presented by Coopers Markets. There will be vintage fairground rides, music, and outdoor dining area in the Market Square as well as an artisan food & gift market in the High Street. The local retailers also contribute to the event to make it and enjoyable evening for the whole community. The event takes place on Friday 1 December, from 4pm.
The Amersham-on-the-Hill Christmas Festival takes place on Saturday 2 December. Organised by the Amersham Action Group in partnership with the Town Council, the event begins at 10am with a Christmas market, and festivities from 12pm. The official 'switch-on' of the Christmas tree at St. Michael's Square takes place at 4.30 pm. Do come along for some Christmas cheer and a mince pie (or two)!
The Town Council also arrange a Christmas tree recycling service for residents of Amersham and surrounding areas (Little Chalfont, Coleshill and Chesham Bois). For a small donation, trees are collected from your doorstep and recycled as mulch for new tree saplings at Willow Wood and compost for the Town Council allotments. All donations received go towards our Amersham in Bloom initiative.
Recent News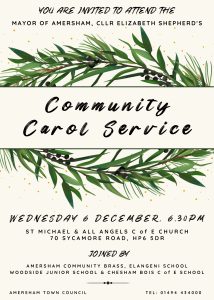 Community Carol Service 2023
The Town Mayor, Councillor Elizabeth Shepherd is pleased to invite residents to the Amersham Town Council Community Carol Service, taking place on Wednesday 6th December 2023 at St Michael & All Angel's C of E Church, 70 Sycamore Road, HP6 5DR, commencing at 6.30pm. The event is free to all who wish to attend, and […]
Read More
How can we help you?
The Town Council offers a range of good value services and facilities to Amersham residents and visitors.
We are committed to improving the quality of our facilities and we value your comments and feedback on future improvements.
Contacts