Christmas

Amersham Town Council are proud to provide Christmas lights in Old Amersham and Amersham-on-the-Hill. The Town Council also arrange the Mayor's Annual Community Carol Concert. The wonderful evening features perfomances by local schools and bands. Members of the public are welcome to attend and join us for the festivities. We are proud to assist with a number of other activities in the town.
Each year the Old Amersham Business Association arrange a magical evening of shopping and entertainment in Old Amersham in early December, featuring entertainent and a celebrity special guest for the Old Town's christmas lights switch on.
The Amersham-on-the-Hill Christmas lights are also switched on in early December, as well as a family friendly festival to mark the occasion, arranged by the Amersham Action Group.
The Town Council also arrange a christmas tree recycling service for residents of Amersham and surrounding areas. For a small donation, trees are collected from your doorstep and recycled as mulch for new tree saplings at Willow Wood and compost for the Town Council allotments. All donations received go towards our Amersham in Bloom initiative.
Recent News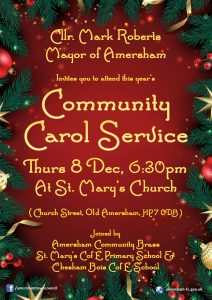 Community Carol Service 2022
The Town Mayor, Councillor Mark Roberts, would like to invite residents to the Amersham Town Council Community Carol Service on Thursday 8th December 2022 at St Mary's Church Amersham, Church Street, Old Amersham, HP7 0DB, commencing at 6.30pm. We are pleased to announce that there will be performances by Amersham Community Brass, St. Mary's CofE […]
Read More
How can we help you?
The Town Council offers a range of good value services and facilities to Amersham residents and visitors.
We are committed to improving the quality of our facilities and we value your comments and feedback on future improvements.
Contacts