Amersham In Bloom – Thank You To All Involved!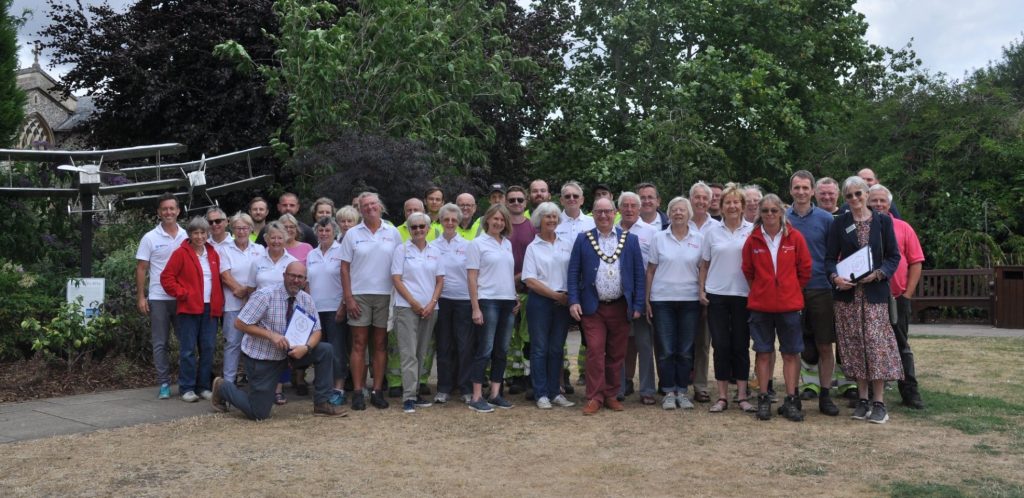 Earlier today, we welcomed RHS Communities judges Richard Budge and Mary Bagley to Amersham. As part of the tour, we visited the jubilee pollinator bed and Met 1 in Amersham-on-the-Hill, Willow Wood, Pondwicks Community Orchard, and finally, the Memorial Gardens, where we completed the tour.
To be chosen as one of only 46 UK villages, towns, and cities to enter the national final is an absolute honour and testament to our floral displays, conservation efforts, and the wonderful community that we have here in Amersham.
Of course, we have our fingers crossed for a GOLD award when the results are announced in October. More importantly, the competition has provided the momentum to undertake some fabulous improvements to our remarkable town.
Amersham Town Council (staff and Councillors) is extremely proud of the magnificent Amersham in Bloom team – the Amersham Town Council depot and office staff, bloom volunteers, the leaders of the 1st Chesham Bois Scout Group (led by Andy Honour), Stony Dean School, Teresa Morrissey, Dan Peters and Gary Honour at Buckinghamshire Council, and all of our partners. Everyone has pulled out all the stops and contributed above and beyond to ensure that Amersham shines.
It has proved another fantastic year, and with many of the flowerbeds and pockets of wildflowers about to burst into life, we are in for a colourful summer.
Thank you so much for your support.