Upcoming Christmas Activities – A Brief Summary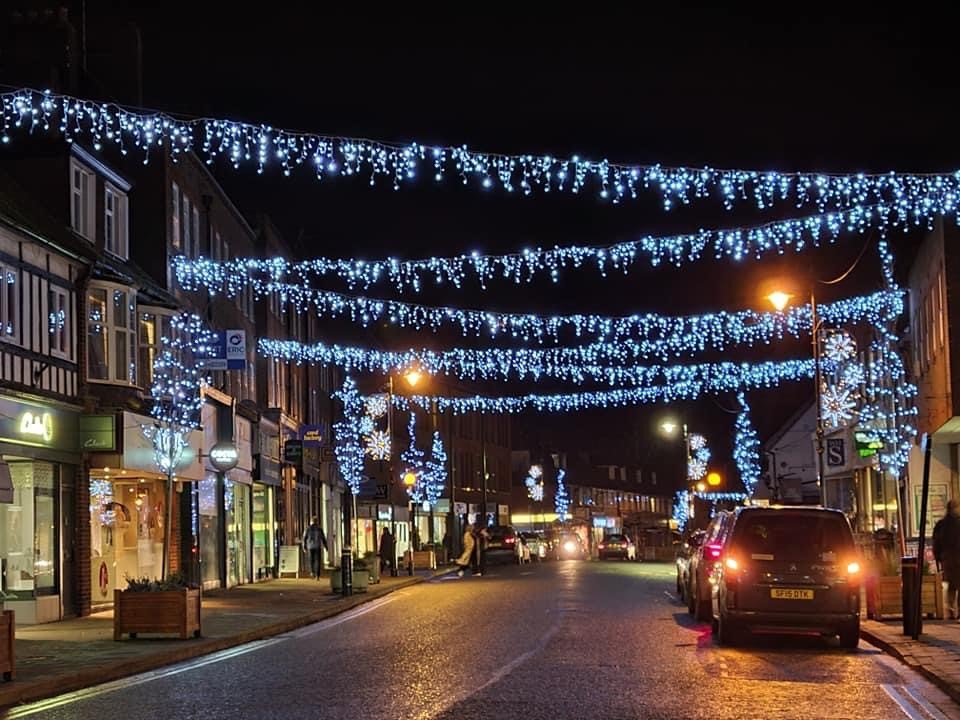 Christmas Lights
Amersham Town Council are proud to bring you the Christmas lights in Old Amersham and Amersham-on-the-Hill, which you may already have seen. While the Town Council do not organise the Christmas events, we are delighted to confirm that the community events in Old Amersham and Amersham-on-the-Hill are going ahead this year.
Friday 3rd December 2021
A magical evening of shopping and entertainment begins in Old Amersham on Friday 3rd December. Organised by the Old Amersham Business Association, the event commences at 6pm with the light switch-on at 6.30pm. Come and join in with the festivities while supporting local businesses!
Saturday 4th December 2021
The Amersham-on-the-Hill Christmas festival takes place on Saturday 4th December. Organised by the Amersham Action Group, the event begins at 10am with a Christmas market, and festivities from 12pm. The official 'switch-on' of the Christmas tree at St. Michael's Square takes place at 4.30 pm. Do come along for some Christmas cheer and a mince pie (or two)!
Tuesday 7th December 2021
The Town Mayor, Councillor Mark Roberts, would like to invite all residents to the Amersham Town Council Community Carol Concert on Tuesday 7th December 2021 at King's Church, Raans Road, Amersham HP6 6LX, commencing at 6.30pm. Seats are limited and on a first come first serve basis. All guests are welcome to stay for seasonal refreshments at the end of the service.
Other Christmas Activities in our Town
Be sure to pop to the Memorial Gardens where you may spot Santa's magically illuminated reindeer, funded by Old Amersham Revitalisation Group (thank you!). Thanks also to local fairground showman Mark Roberts for funding the tree at St. Michael's Square and to Su Chases for funding the two trees in Old Amersham.
Free Parking
In partnership with Buckinghamshire Council, free parking will be available in Old Amersham and Amersham-on-the-Hill on the following dates:
Sycamore Road and Chiltern Avenue car parks – Saturday 4, 11, 18, and Friday 24 December
 Amersham Old Town car park – Saturday 27 November, Friday 3, Saturday 4, 11, 18 December
Community Tree Planting
To mark the final phase of our Willow Wood legacy project, we have planned a community tree plant on Monday 3rd January from 9.30-11.30am. To date, we have planted 7,200 trees in the creation of Willow Wood (behind Stanley Hill cemetery) since its inception in 2012. The final stage will see a further 300 trees planted, completing the project. In addition, next year's community plant will form part of The Queen's Canopy tree planting initiative to 'Plant a Tree for the Jubilee' to commemorate Her Majesty's Platinum Jubilee.
The benefits of trees has long been documented, and in the current changing climate, never has restoring our natural environment been more pertinent. So, come along with a fork or spade and help to make a real difference – one that we hope many future generations will benefit from. Thank you to Old Amersham Revitalisation Group for funding the trees.
Christmas Tree Recycling
Following the success of last year's Christmas tree recycling initiative, we are offering the same service again this year! For a £5 donation, the Town Council depot will collect your Christmas tree, convert it to compost using our Eco Green Shredder, and use the bi-product to mulch trees and flowerbeds around Amersham. Last year we generated six tonnes of material!
The depot team will collect from the local area on 5th-7th January and 10th-14th January.
To make a £5 donation, please visit www.bit.ly/tree_recycling or email info@amersham-tc.gov.uk with your name, address and preferred date of collection. All donations will go towards Amersham in Bloom projects.