ATC Annual Town Meeting – Tuesday 3rd May 2022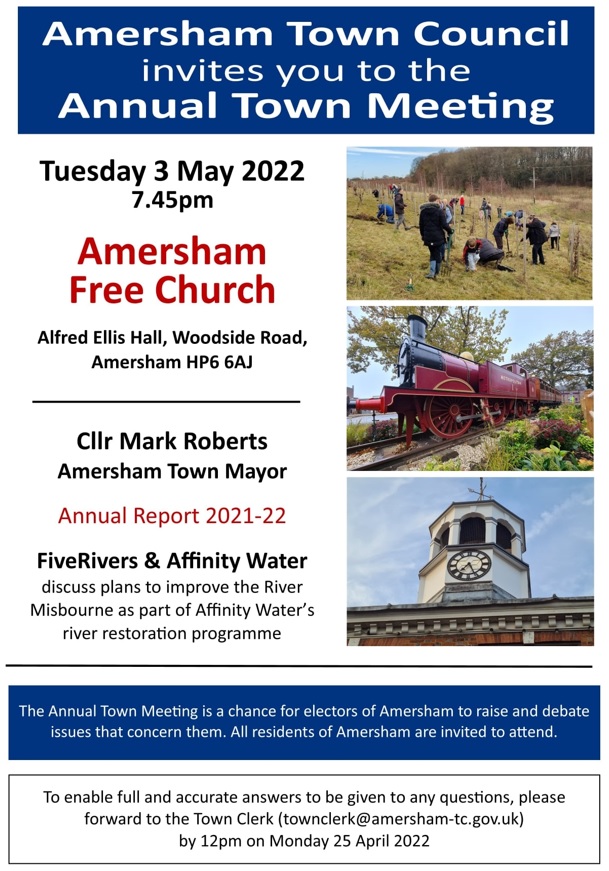 The Annual Town Meeting will take place on Tuesday 3rd May at 7.45pm at the Amersham Free Church, Woodside Road.
The Mayor of Amersham, Cllr Mark Roberts, will be reviewing some of the highlights from the last year in his Annual Report.

We also have a presentation from FiveRivers Environmental Consultants and Affinity Water on the improvements that they will soon be undertaking on the stretch of the River Misbourne from Barn Meadow to Pondwicks in Old Amersham. We very much hope you can join us!

Do you have a question you would like to be addressed by the Town Council? Please forward any questions to townclerk@amersham-tc.gov.uk.

If you prefer, you can also write to us at Amersham Town Council, Flint Barn Court, Church Street, Amersham, Bucks, HP7 0DB. All questions must be submitted by 12:00 midday on 25 April.