The Life and Times of The Martyrs of Amersham and the Community in which they lived.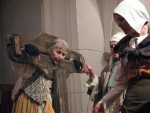 The Life and Times of THE MARTYRS of AMERSHAM and the Community in which they lived
How often have you heard the words "this is a show you must not miss"? Well, I can honestly say this time it's true.
Over 100 women, men and children have been cast in this extraordinary piece of theatre, which tells the tale of ordinary folk living in Amersham in the early 16th century. Among these folk, were six men and one woman who were Lollards….they wanted to read the Bible and listen to the Sunday service in English rather than Latin, which few understood.
For this very meagre request, they were burnt at the stake in the fields above Amersham.
Do come and experience what life was like in Tudor Amersham, and become witness to the story.
As soon as you arrive, you will be immersed in the weekly market, mingling with the people of the town and listen to their conversations and gossip. You will meet the rat catcher, the farmers, the children, the millers and all sorts of trade's folk who made up the Amersham of 500 years ago.
There are some very touching scenes, spectacular lighting, totally authentic costumes, a choir singing music of the period and of course, the wonderful setting of St Mary's Church, Old Amersham.
This is a promenade performance, which means the audience stand and walk around the Church following the Performers.
10, 11, 12, 17, 18 & 19 March; St Mary's Church, Old Amersham, 8pm (doors open 7.45pm)
TICKETS: £14 (incl booking fee) online at www.themartyrsofamersham.co.uk
Enquiries: Jill Mace 01494 7211036