New Town Sign for Amersham-on-the-Hill!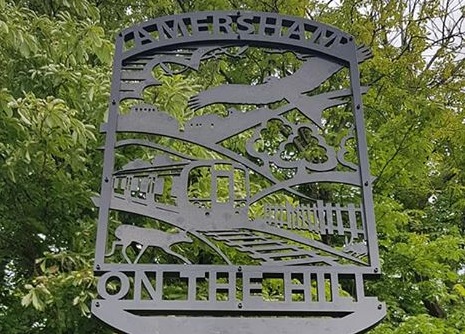 The Town Council installed a new addition to Sycamore Corner on Wednesday.
130 years or so after the development of Amersham on-the-Hill we finally have a 'Town Sign'.

The sign, a Town Council initiative, incorporates many modern features of Amersham-on-the-Hill, including a Metropolitan Line train, St Michael's Church, Amersham Free Church, red kites and of course beech trees….
We would like to thank Michelle Catanach and Colin Pells for working in association with Town Council to create the original concept, artwork and computer image. Similar thanks to Andy Honour for converting this image into a computer-aided design and usable file which was used to produce the sign. Such talent!
We would also like to thank the Amersham and District Residents Association for helping to fund the sign and Buckinghamshire Council for allowing the sign to be installed on the verge.