Mayor's Chosen Charity – Buckinghamshire Mind on the look out for new Volunteers!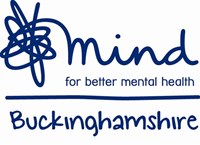 Mayor's Chosen Charity
– Buckinghamshire Mind on the look out for new Volunteers!
Buckinghamshire Mind calls for Volunteers in Chiltern and South Bucks
Buckinghamshire Mind, the mental health charity, is recruiting and training volunteers for its Befriending Service, which provides one-to-one support for adults who are lonely or isolated as a result of mental ill-health.
"We're keen to hear from people in Chiltern and South Bucks who would like to find out about volunteer befriending in their local area. Our volunteers come from all walks of life and from different stages – whether retired, in full- or part-time work, in or away from home, studying or training".
Eli Merchant, Befriending Coordinator, Buckinghamshire Mind
Buckinghamshire Mind's Befriending Coordinators recruit and train volunteers who are then placed in 'partnerships' with people in the local community who are living with a mental health condition. Befriending volunteers and service users meet once a week for one to two hours for six months (short term) or one year (long term). Their time together can be based around a specific activity, learning a particular skill or simply a cup of tea and a chat in a local coffee shop. The aim is to promote confidence, independence and address the isolation that people with mental health problems often experience.
"There most definitely is a 'feel good factor' about befriending, where you can see first-hand how the small amount of time you give can impact the quality of life of another person. I like to view befriending as a first stage in breaking isolation; it is during befriending that the possibility of moving forward into wider social contact can be explored and supported."
Volunteer Befriender for Buckinghamshire Mind
People who have benefited from Buckinghamshire Mind's Befriending Service have provided very positive feedback about their experience:
"I am back in work. Befriending helped me get out of a rut."
"I'm getting more confident and helping to improve things for myself."
"I've had a befriender for a year and I have a real hope of recovery. I feel positive about my future".
If you would like to know more about this rewarding role, please contact Eli Merchant on 07498 6115566 or email sunhouse@bucksmind.org.uk
To find out more, please visit: www.bucksmind.org.uk/services/befriending