Heritage Day 2015 Programme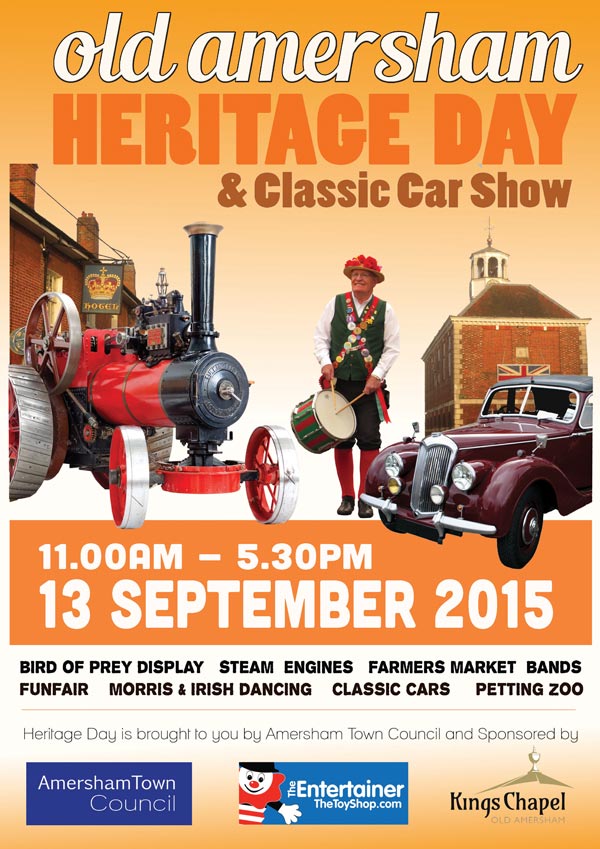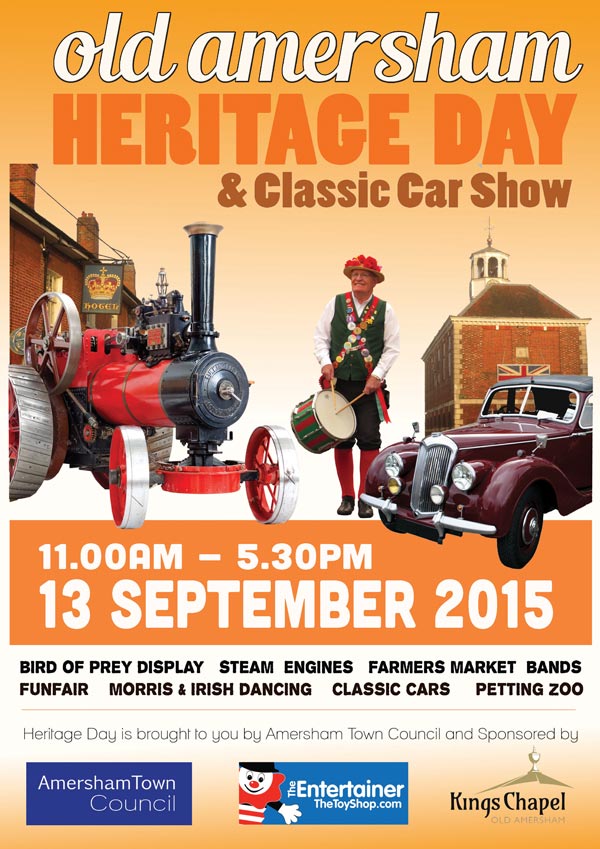 Plans for an exceptionally exciting programme of Heritage Day events have come together, and are as follows:
Timing of events: Sunday 13th September, from 11.00am to 5.30pm
Catch a free heritage bus from Amersham Station to Old Amersham – every 15 mins from 11am until 3.30pm. Saves parking!
More Performances than in 2014 – starting at 12.15pm with Amersham Band in the Memorial Gardens before Chiltern Jive Club at 2.15 and Soundforce Big Band at 3.30pm. Enjoy a cup of tea while listening to the music.
Medieval Re-enactment marks the start of performances in the Market Square at 1pm – Merrydowners Morris (1.30pm and 3.15pm), Chesham All Girls Marching Band (2pm) and Scoil Rince Ceim Oir Irish Dancers (2.45pm)
Church Mead children's area including free animal petting zoo, pony rides, face painting, bouncy castle throughout the day. Three Punch and Judy performances, starting at 12.30.
St Marys Churchyard – Static Bird of Prey display and flying display (2pm and 3.30pm). Also hourly ferret racing. The Paladins of Chivalry will also have a medieval camp set up in the churchyard.
50 farmers market stalls and craft stalls in the High Street – with something for everyone.
Classic cars and steam traction engines.
Amersham in Bloom Flower, Fruit and Produce Show under the Market Hall. Everyone can enter the many classes on offer. You can download an entry form here, with rules and details of all the classes.
Fairgrounds at either end of the town.
Live bands at the Eagle, Elephant and Castle, Crown and Kings Arms.
BBQ, Spanish tapas food and curries available along with street food available from the Kings Arms and Crown.
Open buildings – Kings Chapel, Methodist Church (children's messy play), Quaker Meeting House, Museum, St Mary's Church including the Drake Chapel and the Market Hall (Victorian Teas Room and Make Do and Mend Exhibition).
Martyr walks (11:30am and 14:15) and historical town walks throughout the day (starting at 12.30pm) – tickets available from the Amersham Museum.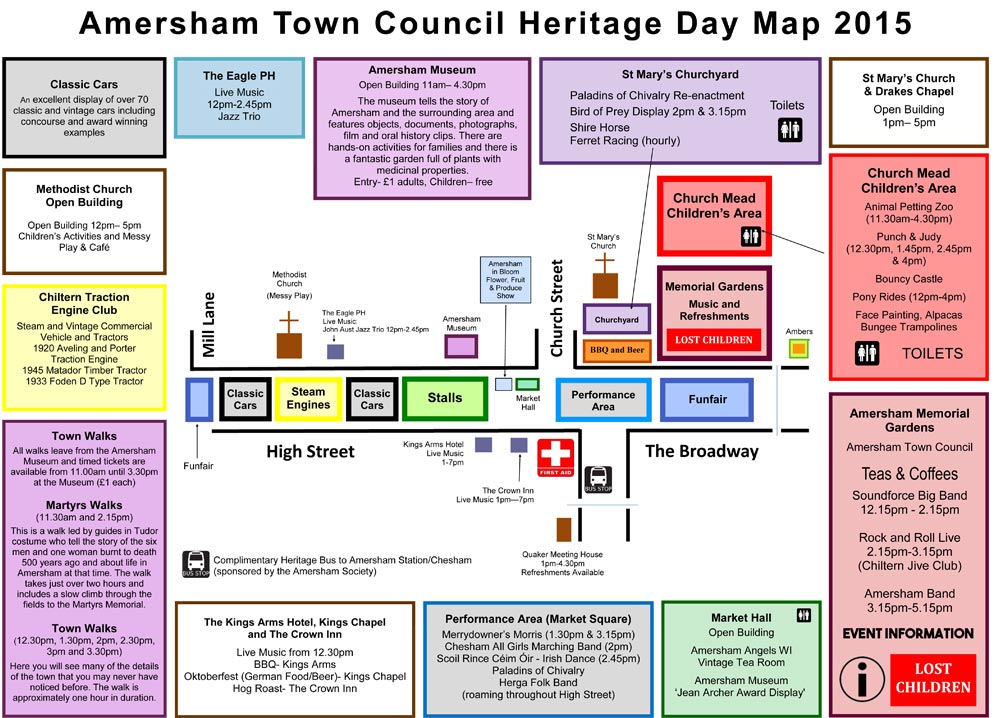 Click on the map for an enlarged PDF version..
Thank you to the Kings Chapel and The Entertainer for sponsoring the day, along with Amersham Town Council.