Exciting new outdoor areas are now open in Amersham as part of the Chilterns Lifestyle Centre development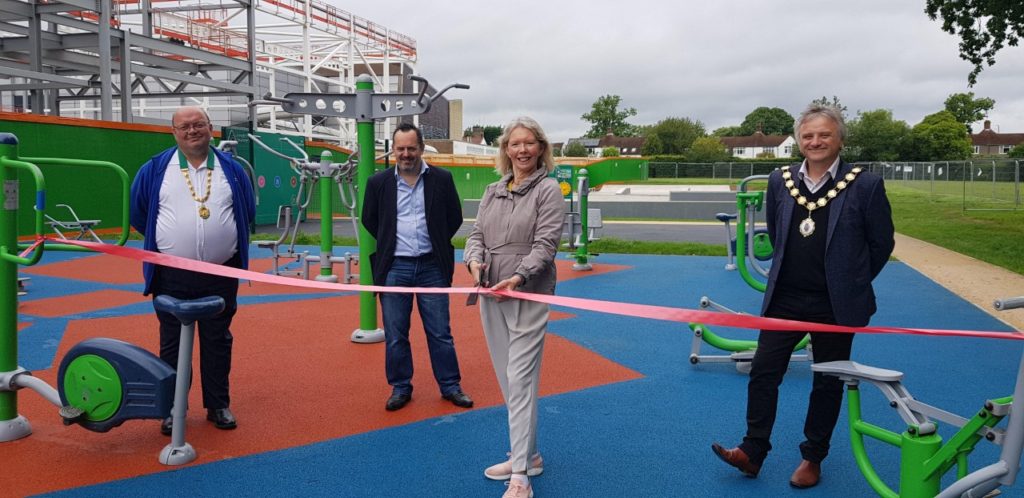 A brand new skate park, children's play area, outdoor gym and street snooker has today, Friday 10 July, opened in Amersham. The outdoor areas can be found at the King George V Playing Field and are part of the Chilterns Lifestyle Centre development; a new leisure and community centre being built in Amersham by Buckinghamshire Council.
To mark the first areas of the new complex opening to the public, representatives from Buckinghamshire Council, Amersham Town Council, and BAM gathered for a small, socially distanced, ribbon cutting ceremony.
Cllr Mark Flys, Mayor of Amersham said: "It was great to mark this exciting milestone with other representatives who have been instrumental in bringing this phase of the development to life. With so much more to look forward to, Amersham Town Council is delighted to take over ownership and management of the new facilities and hopes they have a long-lasting positive impact on our local community."
The new areas offer something for all ages and include a mix of new and restored equipment. There are also a number of accessible pieces of equipment including the roundabout, trampoline and nest swing with other elements of the play equipment able to be used with assistance. And, there's more still to come in the range of outdoor facilities with a more familiar and traditional playground for younger children on the horizon.
Cllr Clive Harriss, Buckinghamshire Council Cabinet Member for Sports and Leisure added: "Looking forward, I'm excited to see local children, adults and families enjoying using these new facilities. As the Chilterns Lifestyle Centre development continues, there's more on the horizon for the local community to look forward to.
"We'd like to remind users of the new outdoor facilities to follow social distancing and good hygiene practices while we're still in the midst of the coronavirus pandemic. Please be responsible, keep your distance, be considerate when using equipment and take hand sanitiser with you to use."
For more information please visit www.chilternlifestylecentre.com and follow @AmershamTC and @BucksCouncil on social media.
Photo: Socially distanced ribbon cutting to mark the opening of the new King George V Playing Field outdoor facilities.

Left to right: Cllr Andrew Seymour, Deputy Mayor of Amersham | Cllr Mike Stannard, Buckinghamshire Council | Cllr Liz Walsh, Buckinghamshire Council and Amersham Town Council | Cllr Mark Flys, Mayor of Amersham.