Community Bloomers Scoop Gold – again!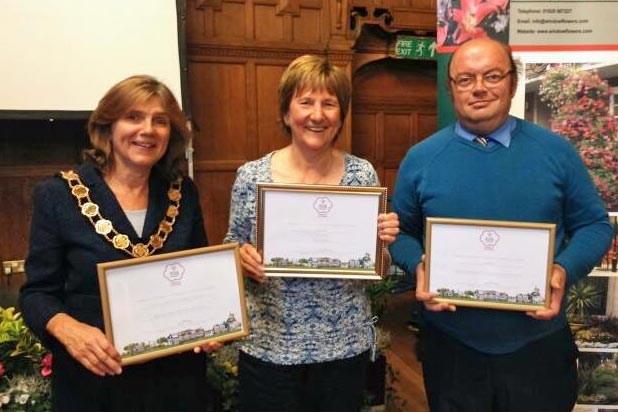 The involvement of the whole community, led by Steve Catanach and his fantastic Bloom volunteers, has delivered GOLD for the second year in a row! We also won two regional awards for Conservation & Wildlife and Public Park for the displays in the Memorial Gardens.
Comments by the Britain in Bloom judges specifically recognised the efforts of community volunteers, Scouts, businesses, the Town Council and in particular the the extent of involvement of schoolchildren. Huge thanks go to everyone involved.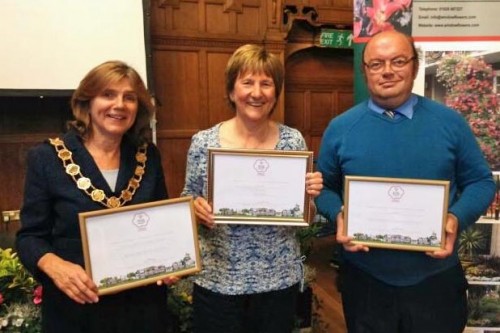 Pictured receiving the awards are: Town Mayor Cllr Amanda Lamont; Jill Mace, Amersham in Bloom Committee and Cllr Andrew Seymour, Chairman, Amersham in Bloom Committee.
The Judges' introduction reads as follows: Another excellent entry from Amersham this year, building on recent successes. The impact of the various ornamental planting schemes, both those from the Council and also the individual businesses and gardens, was very welcoming for visitors, and demonstrated the town's very evident Pride of Place.
The Judges like the way that Amersham has embraced the RHS theme 'Great Green Spaces' in their provision and maintenance of their parks and other public places, particularly the new orchard at Pondwicks Meadow.
The wealth of voluntary support for the Bloom, not only the Street Buddies, but also the schoolchildren and 11 other community groups.
You can download the full Judges' Report and scoring.
As you may now realise, work on Bloom goes on all year round. So if you have some great ideas for the 2016 Bloom Campaign – or if you want to come along and help with some planting, please call the ATC office on 01494 434000 and ask for Steve.