Amersham Recycles for Medic to Medic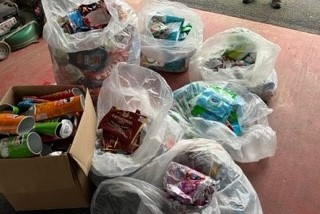 2022 saw Amersham Town Council working with Amersham Recycles for Medic to Medic, by installing collection points in Amersham on the Hill for various items that cannot be recycled by Buckinghamshire Council.
Throughout 2022 four local retailers agreed to collect the following items:
Writing Implements and Pringle tubes at St Michaels and All Angels Church
Toothbrushes, toothpaste tubes and electric toothbrush heads at Specsavers
Used Makeup at Brendan O'Sullivan Hair and Beauty Salon
Marigold gloves and Ferrero Roche boxes at the Post Office
We have also had help from Woodside Junior School with the collection of Pringle Tubes, makeup and toothpaste tubes and brushes.
With their help the following amounts have been recycled in 2022:
106 kgs writing implements
60 kgs toothbrushes, tooth paste tubes and 12 kgs electric toothbrush heads
50 kgs Pringles tubes
15 kgs make up
13 kgs Ferrero Roche boxes & inner trays
11 kgs Marigold rubber gloves
This is an enormous amount of waste that could have ended up in landfill but instead it has been recycled. Thanks for all your help. Amersham Town Council are pleased to help reduce waste. We believe that we can do even better in 2023, so PLEASE continue the good work and instead of throwing it out, have a THINK first and see if it can be recycled.
We would like to thank the retailers and Woodside Junior School for their help with this great initiative. If any other Retailer or School would like to be involved, please contact Councillor Jane Barnes at: JaneBarnes@amersham-tc.gov.uk
There are many other items that can be recycled, the following is what has been collected in 2022 by Amersham Recycles for Medic to Medic:
120 kgs Lavazza coffee capsules
10 kgs coins and notes
11 kgs Babybel, wrapping nets, wax
9 kgs stamps
18kgs cheese wrapping
8 kgs Bayliss & Harding pumps
8 kgs coffee bags
6 kgs home laundry packaging
13 kgs Hasbro toys and games
21 kgs biscuit wrappers
15 kgs sweet wrappers
16 kgs rigid plastic storage containers
700 printer cartridges
30,000 CDS and DVDS
50,000 books
You can drop off the above items in the yellow wheelie bin at Newlyn Corner, Sycamore Close, Amersham HP6 6BW at any time. It is essential that each category of waste is kept in individual bags (like with like) as it cannot be hand sorted. Thanks for your help.
More details can be found on their Facebook page: https://www.facebook.com/groups/600866414174513
In 2022, an incredible £4,905.00 was raised for Medic to Medic.