Amersham In Bloom 2017 Archives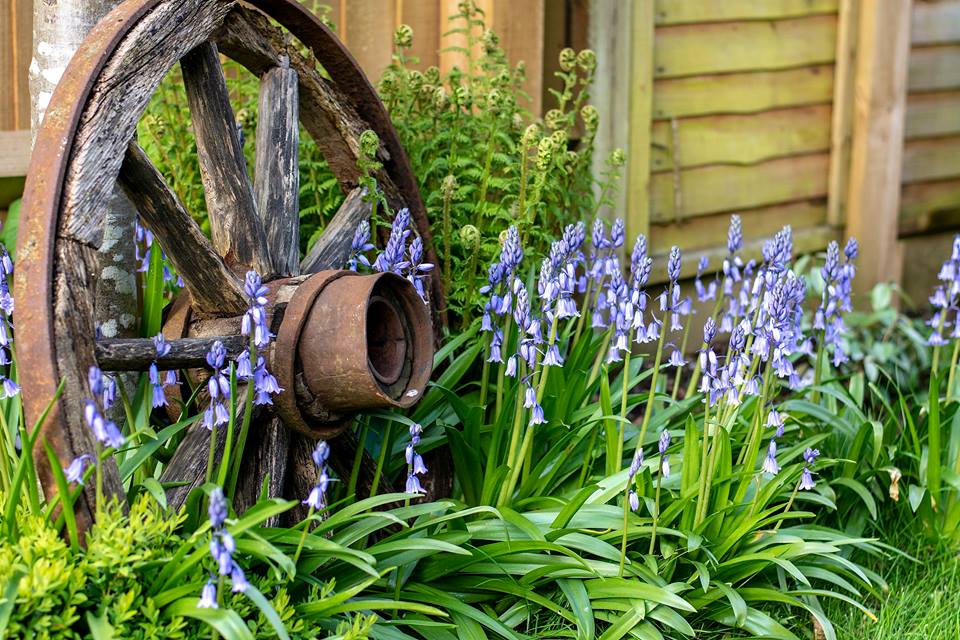 Photograph a 'Bulb' Competition – WINNERS Announced!!
The entries have been judged and it is with great pleasure to announce the winners of the 'photograph of a bulb competition'..
In first place is Debra Sapstead with her wonderful image of bluebells amongst a old cart wheel. The runner up is Carole Taylor with her photograph of Muscari (grape hyacinths) and in third place is Rebecca Ellis with her image of daffodils with St Mary's Church in the background.
A huge thank you to everyone that entered and congratulations once again to Debra who has won a £20 amazon voucher!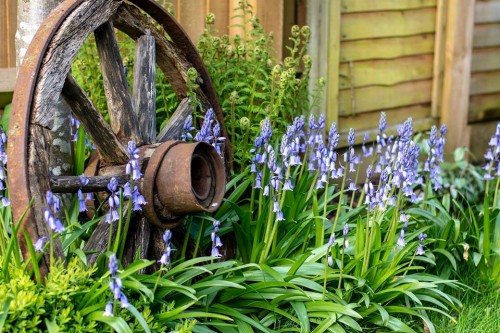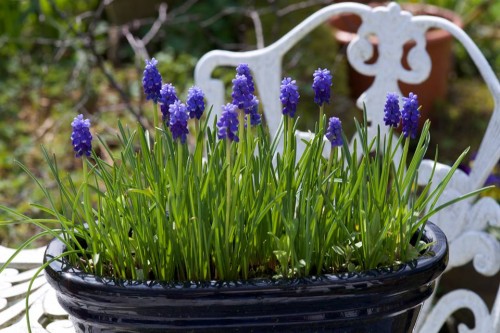 Tesco Bags of Help Scheme – WE NEED YOUR VOTES!!!
ATC is DELIGHTED to inform you that Amersham in Bloom has been chosen as one of the local projects to vote for in the upcoming Bags of Help initiative. Amersham in Bloom are hoping to create a new community orchard and wildflower area in Hervines Park. With the success of the Community Orchard in Pondwicks, we really hope you will be able to support this exciting new project!
Bags of Help is Tesco's exciting local community grant scheme where the money raised by the sale of carrier bags is being used to fund thousands of local projects in communities right across the UK. We hope to obtain a £3000 grant and planting of the Orchard will be in partnership with residents and volunteers for the benefit of the Community.
You can vote for our project in store from now until 28th February 2018!!
We really need your help to develop this project….so let's get voting!!!
Are you a budding photographer??
Are you a budding photographer with a passion for all things Horticultural?? Then you may be interested in our latest competition!
With spring just around the corner, you should start to see some of the 20,000 bulbs that our depot staff, bloom volunteers and Rotary Club of Amersham members planted in Amersham last autumn. We also had extra assistance with the bulb planting this year from pupils of St. Mary's C of E Primary School, Stony Dean School & Heatherton House School.
In celebration of this, Amersham in Bloom are offering a £20.00 Amazon Gift Voucher to the person that snaps the best photograph of the spring bulbs taken in Amersham! Please send your photographs to SteveC@Amersham-tc.gov.uk. The closing date for this year's Competition is Saturday 5th May 2018! GOOD LUCK!!
 
Don't forget to pick up your Amersham in Bloom Christmas cards!!
Thank you to everyone that has kindly bought an Amersham in Bloom Christmas or Greeting Card. We have in total sold over 600 cards which is astonishing.
Every single penny that we have taken has gone back into the initiative so your support is wholeheartedly appreciated.
We still have cards available so if you are passing and would like a card for 'that special one (or two)' then please pop by the Town Council office in Old Amersham. A5 photo cards are £2.50 each while smaller cards, ideal for inserting money or gift cards, are £1 each.
All designs are shown below are available in both sizes.
Thank you once again for your support. It has been a pleasure chatting to so many of you over the past month when we have been out selling the cards.
 
Working in partnership with the Community – Huge Thanks to Dr. Challoners Grammar School & Stony Dean School!
Last week was a busy one for Amersham in Bloom.. With timely fortune, bearing in mind the beautiful snow, we successfully completed planting our winter display.
In addition to planting bulbs in the Memorial Gardens we also planted 500 tulips and daffodils in the verge at Sycamore Corner. And finally a group of students from Dr Challoner's Grammar School and Stony Dean School, designed and planted the bed outside Tom Yum.
It is going to be a colourful spring in Amersham!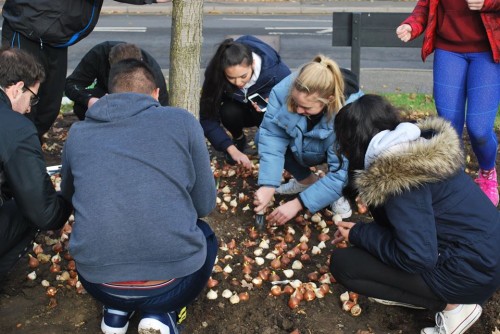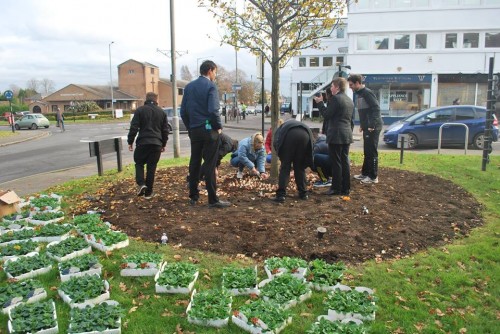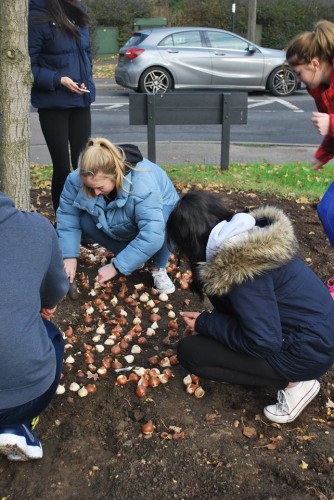 Support Amersham in Bloom by purchasing some stunning Christmas cards!!
Amersham in Bloom are always looking for new and inventive ways to generate funds to support their ongoing projects throughout the Town! This year, Bloom volunteer, Carole Taylor has produced some truly stunning Christmas cards which will be sold to the public with all monies generated going straight to Amersham in Bloom! Look out for updates on where the pop up sales will take place!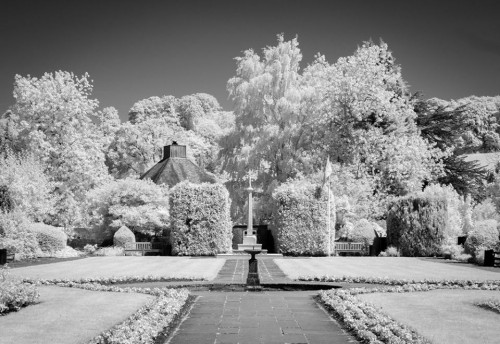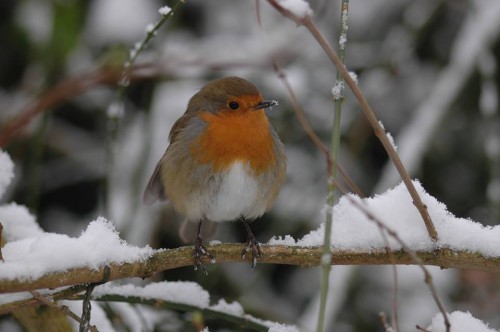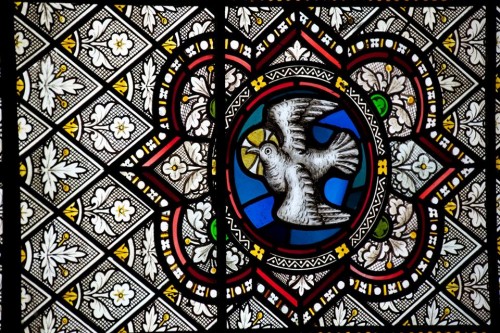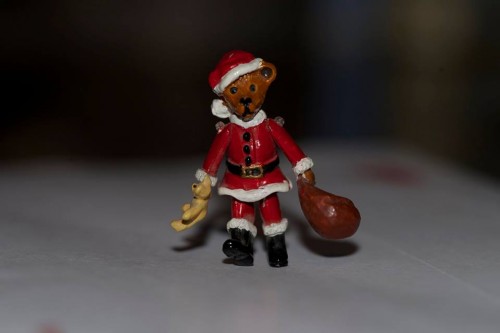 Frost begins to bite….Winter planting continues!!
It was with great sadness that we had to remove the 'summer' plants from the fairground display this afternoon (the frosts were beginning to take their toll!)…. However, we are really pleased to say that the new autumn planting looks amazing…. Over 2000 violas, pansies and primrose were planted in just under three hours by 12 volunteers and Town Council staff.
We hope that you enjoy the new display… LIke the post if you do!
 
Tallest Sunflower in Amersham Competition…. Congratulations Abhinav!
It is with great pleasure to announce the winner of the Kid's Tallest Sunflower in Amersham Competition… Huge congratulations to Abhinav Desai of Belvedere Close, who grew a whopper at 333cm in height (our second tallest ever!). The competition which was once again very kindly sponsored by Rotary in Amersham saw a record number of entries, with many other flowers reaching over 280cm.Thank you to everyone that took part.
 
Winter planting begins…Our Bloom work never stops!!
Over the past couple of days the bloom volunteers and Town Council have been out and about planting the first of our winter/spring bedding displays, along with refreshing the tubs along Sycamore Road.
Three of the raised brick flowerbeds have been planted with wallflowers and spring bulbs, while we have created mini gardens in the tubs, using a mixture of sustainable shrubs, bulbs and winter/spring flowering plants
 
Working in partnership with the Community!!
Pupils and teachers from St Mary's CofE Primary School joined Rotarians from the Rotary Club of Amersham and Town Council Staff to plant 2000 purple crocus corms in St Mary's Churchyard this afternoon.
The purple crocus is a symbol of the campaign by Rotary throughout the world to finally eradicate polio. So as well as looking lovely in spring it is hoped that the crocuses will raise awareness of the campaign.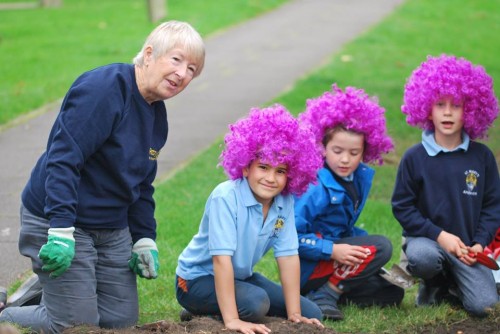 Spectacular Street-signs!
With the help of our ever enthusiastic helpers from Stony Dean School we planted the first of our spring flowering bulbs around the road name plates in the Stanley Hill area this morning.
A big thank you to the residents who have supported the initiative by sponsoring bulbs for 'their' road.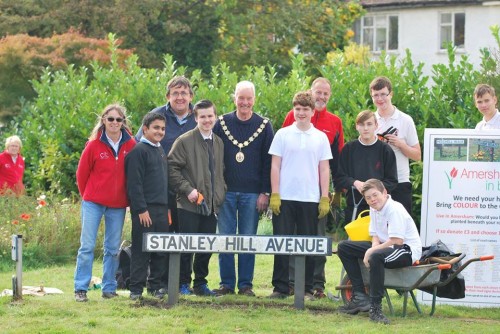 Amersham Strikes GOLD!!…yet again!!
It with great pleasure to announce that Amersham has had a golden afternoon at the Thames and Chilterns in Bloom Award Ceremony. The town picked up a GOLD award as well as being the overall category winner beating Henley on Thames. We also scooped a GOLD Award for the Memorial Gardens in Parks and Open Spaces Category along with the Regional Award for Conservation and Wildlife.
What a fantastic afternoon!
 
Hawkyns High Tea for our wonderful volunteers!
The volunteers would wholeheartedly like to thank the Richard, Melanie, the staff and of course Atul Kochhar for inviting us and indeed treating us to a wonderful afternoon tea at the Hawkyns by Atul Kochhar Restaurant yesterday. The food was delicious and the service exceptional. We really appreciate your support- Thank you so much!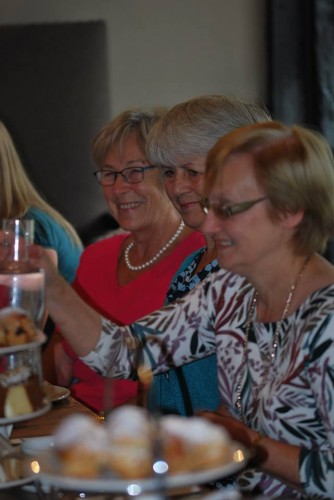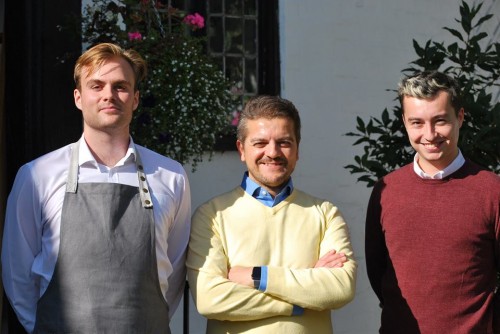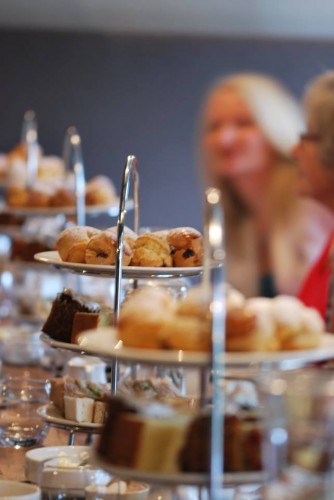 Call for Entries! – Amersham in Bloom – Fruit, Flower & Produce Show!
We are pleased to announce that we shall be holding our third Amersham in Bloom Flower, Fruit & Produce Show as part of this year's Amersham Heritage Day on Sunday 10 September 2017.
This fun show is open for everyone, with classes from runner beans to apples, asters to oak cakes. There are also classes for the under 16's. The Show will take place under the Market Hall in Old Amersham.
To show your support of Amersham in Bloom we would be delighted if you could enter into this year's show!
Please click on the link below to view the FF&P Show Schedule which provides all the information you will need to submit an entry……all entries must be lodged by 4.00pm on Friday 8th September 2017.
https://amersham-tc.gov.uk/…/Horticultural-Show-Sept-201…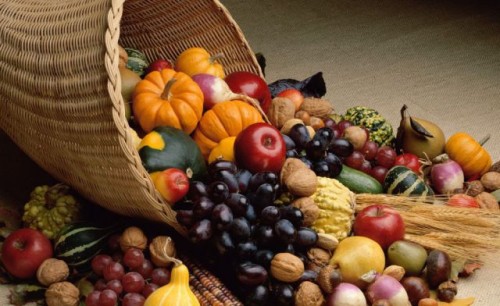 Amersham in Bloom – Working with the Community!
Our sponsor of the day is Fremantle Media UK ….
The group, who have recently moved from Amersham to High Wycombe, have once again sponsored the School's Design a Flowerbed Competition.
This wonderful competition proved as popular as ever with over 350 children entering a design. Shame there can only be four winners..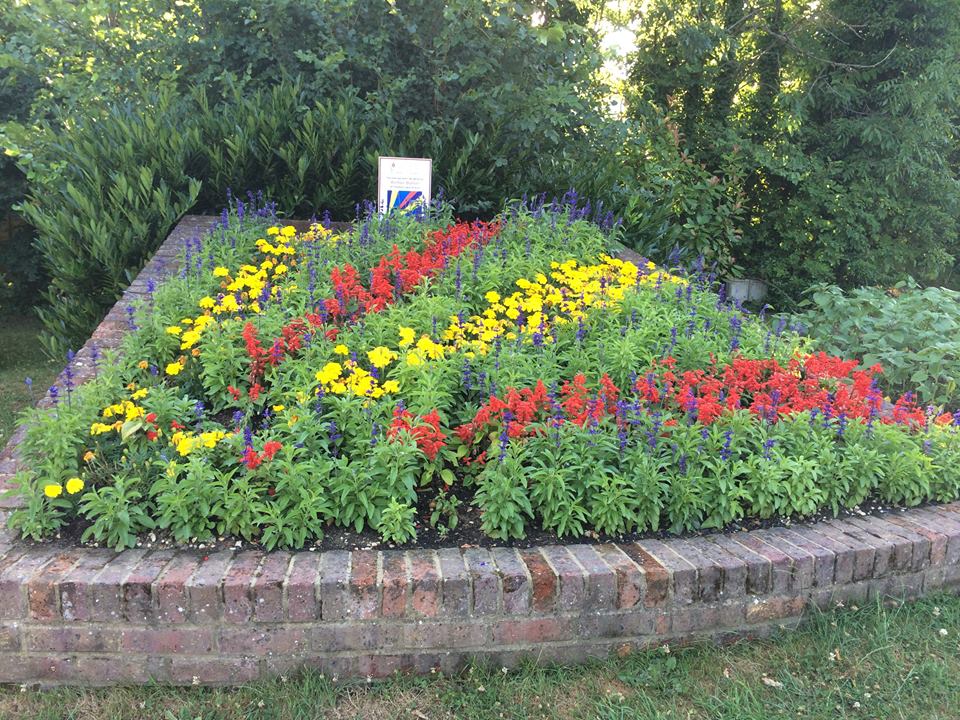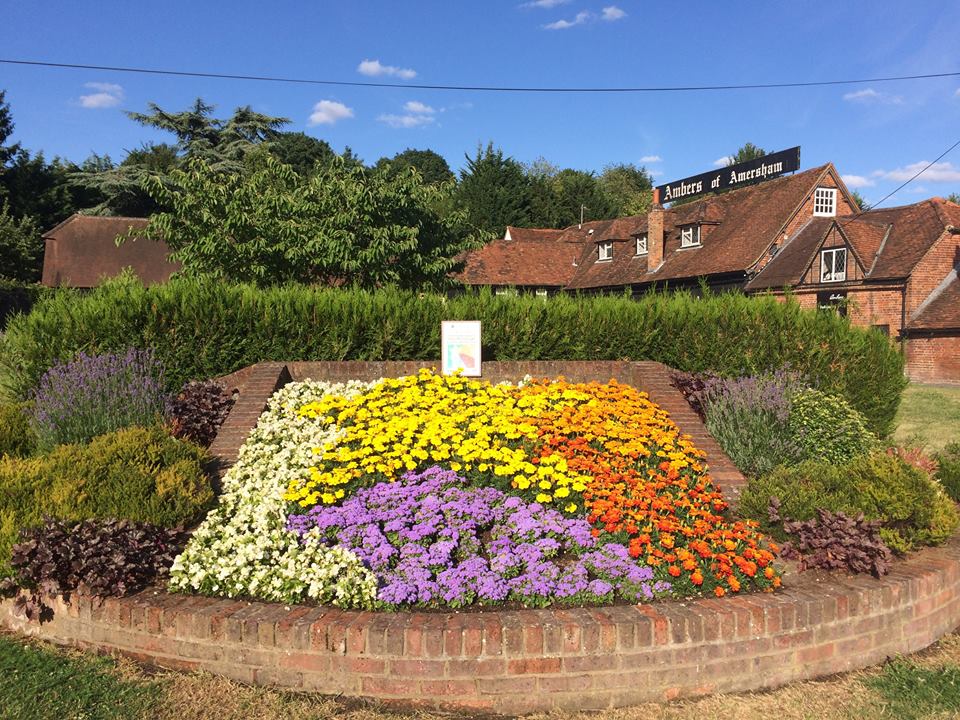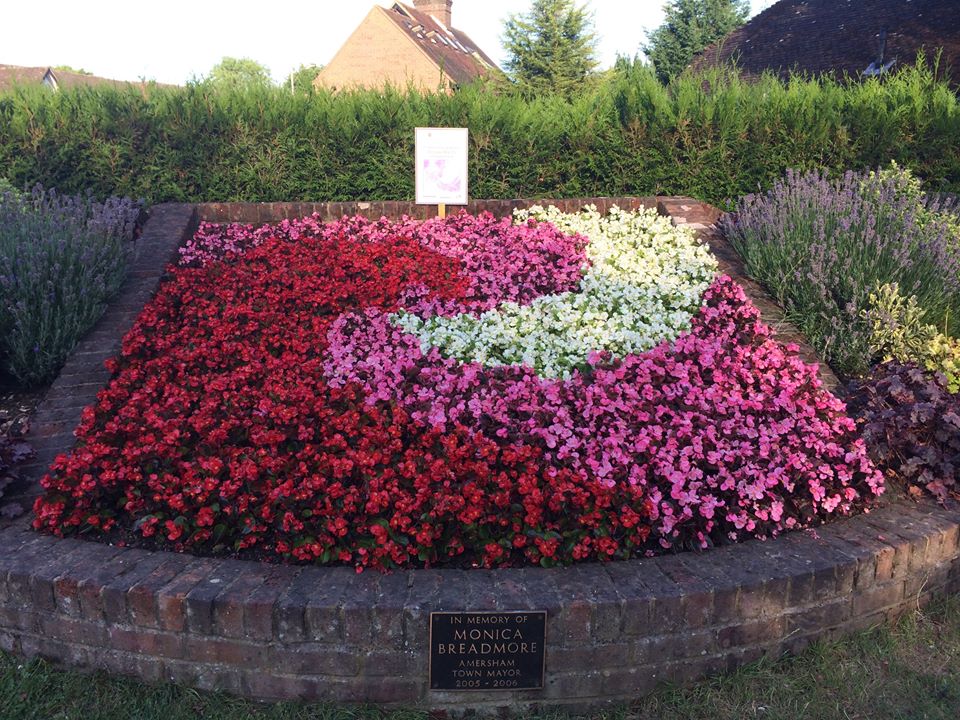 Amersham in Bloom – Working with the Community!
Amersham in Bloom is a Town Council lead initiative that is funded and coordinated in conjunction with the wonderful Bloom Volunteers, who as we know are worth their weight in GOLD!
However, it must be noted that our local businesses play a very important role with our Bloom efforts through sponsorship… Over the next week we shall be thanking each business by highlighting what bed, border or project they have helped fund…..
First up is the Amersham Angels WI. Their kind donation has enabled us to buy plants for the new wooden planter which is located on the corner of Sycamore Road (outside Wentworth Kitchens). Thanks Ladies!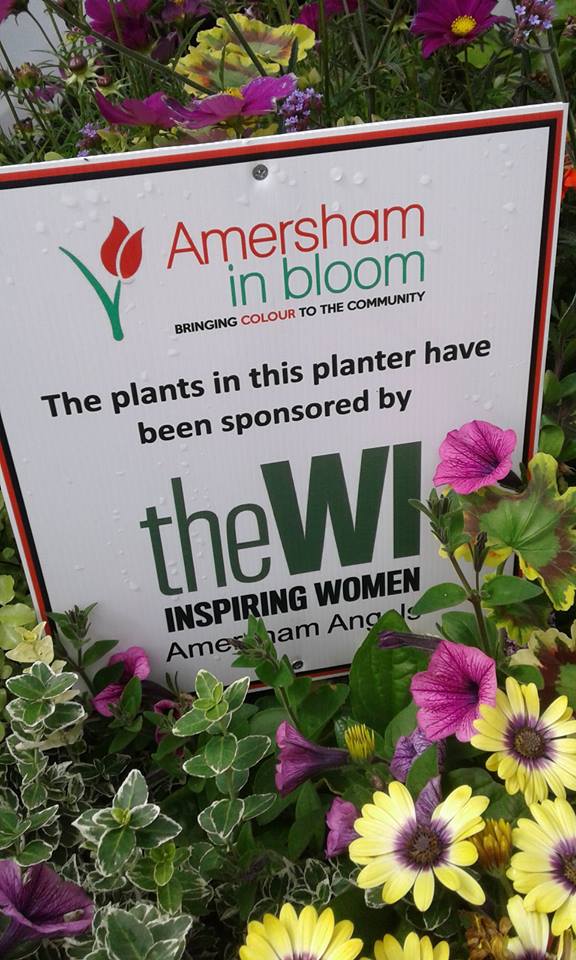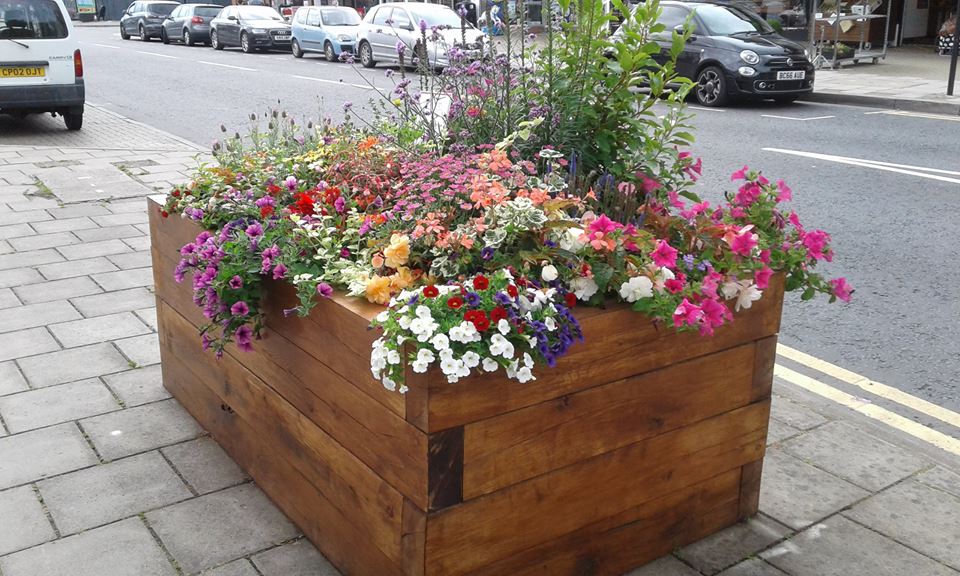 T&C in Bloom Judges visit Amersham!
It was pleasure to welcome RHS Thames and Chilterns in Bloom judges Julie Graham and Peter Goff to Amersham on Thursday. Their two hour tour of Amersham included a trip to Chestnut Lane School, Willow Wood, the Amersham Museum Garden, Pondwicks and of course the Memorial Gardens.
Let's hope the judges were impressed…. The regional awards ceremony takes place in late September.
Another big thank you to all involved…
 
Heritage in Bloom – Fantastic Community Effort!
It is with great pleasure to announce that the 'Heritage in Bloom Display' in the Memorial Gardens is now complete and is all set for its official opening during the band concert this Sunday.
The display is a wonderful demonstration of our community working in together to create something which we can all enjoy.
A huge thank you to all involved including our sponsors The Entertainer, Kings Chapel and the Children's Funfair.
What an amazing effort!
 
Schools Planter Competition!
Our School's planter competition was such a success in 2016 that we just had bring it back for another year… ..
Following the Heritage in Bloom theme of the Memorial Gardens all primary and middle schools in Amersham we invited to create a display (within a planter) to represent a period in the history of Amersham..
The entries, now on display in the Memorial Gardens, are truly amazing with such attention to detail and imagination…
…
Michelle Robertson, from the competition sponsors Barnett Waddingham kindly joined Town Mayor Clive Morgan this morning for the impossible task of judging entries….
….. The winners will be announced at the Band Concert which is taking place from 2.30pm this Sunday in the Memorial Gardens (prize giving at 3.15pm).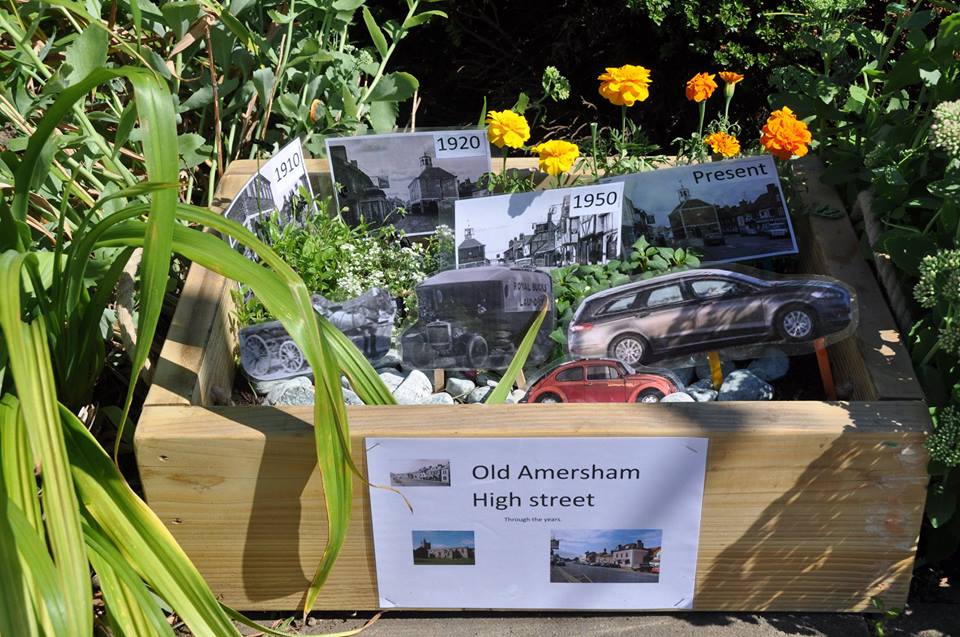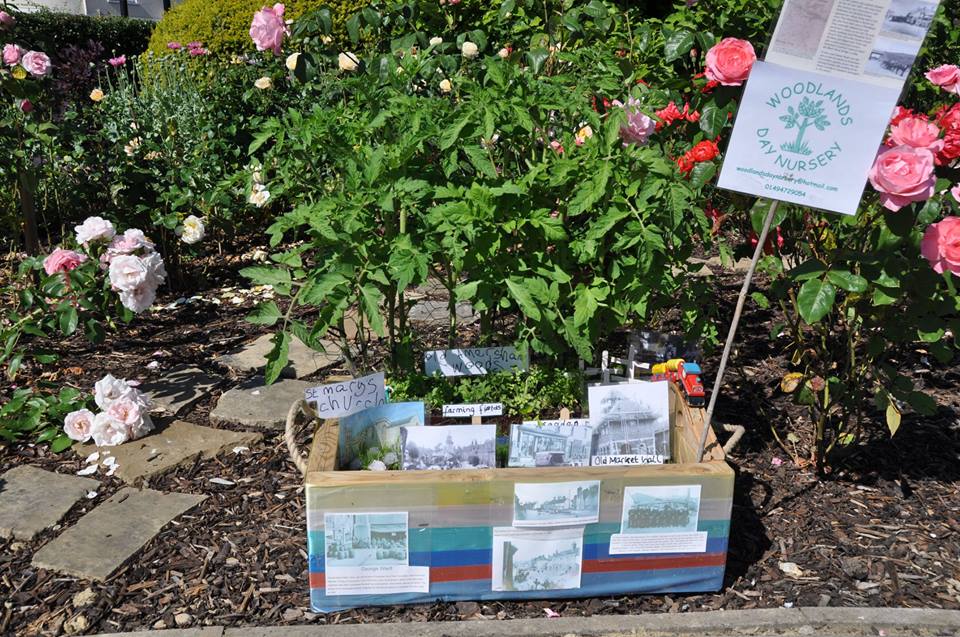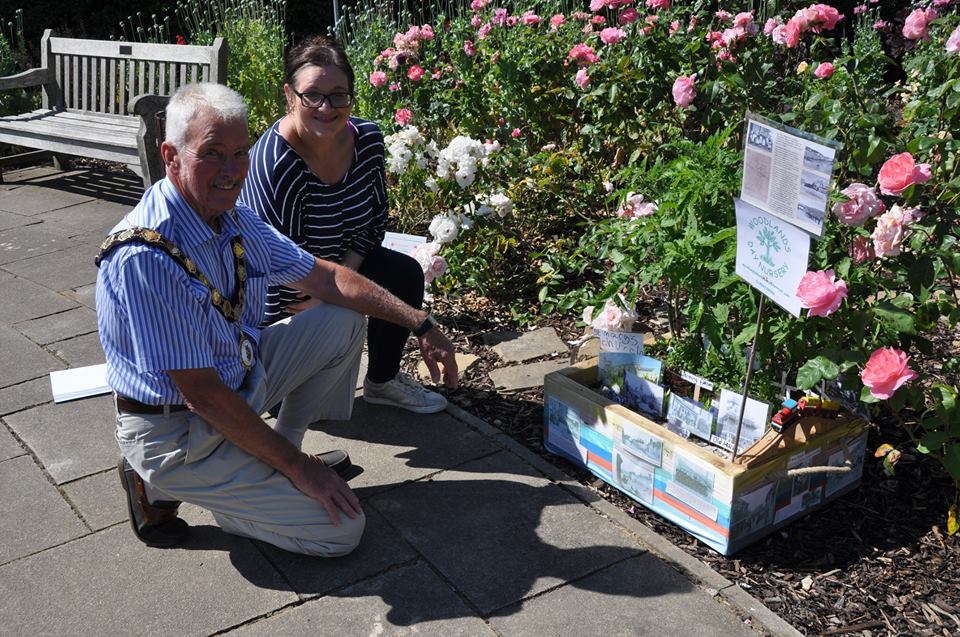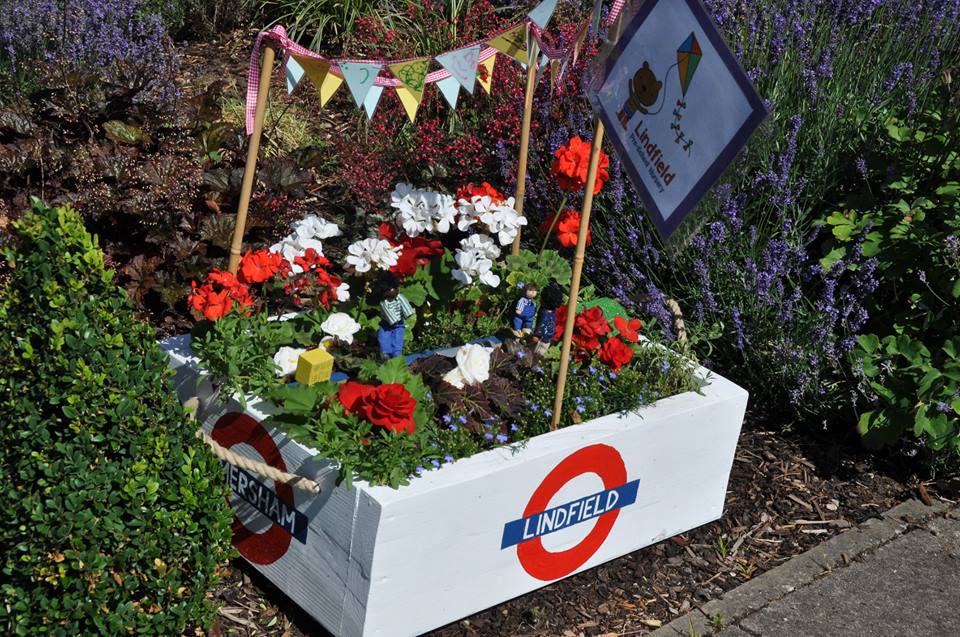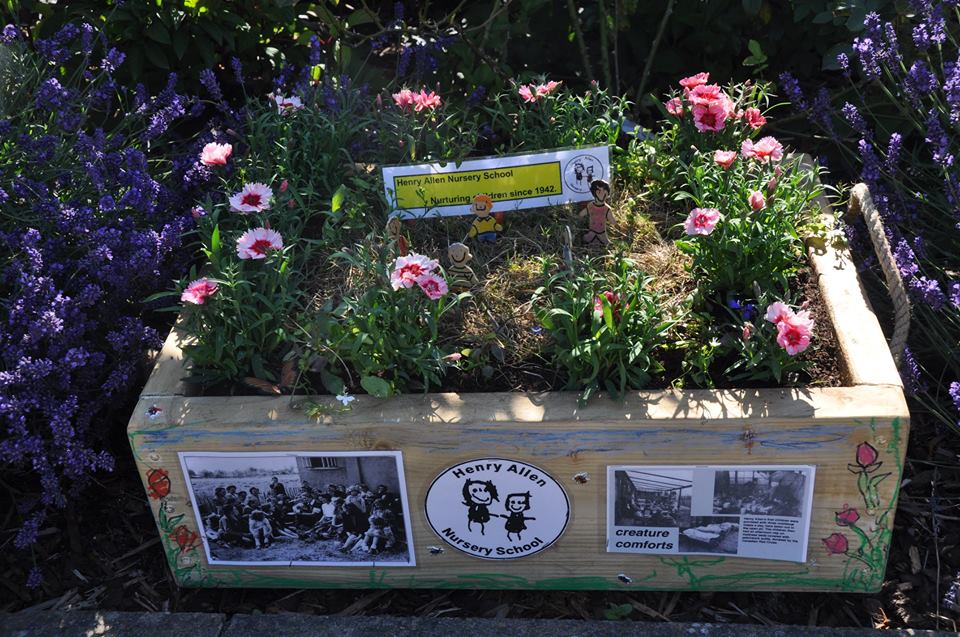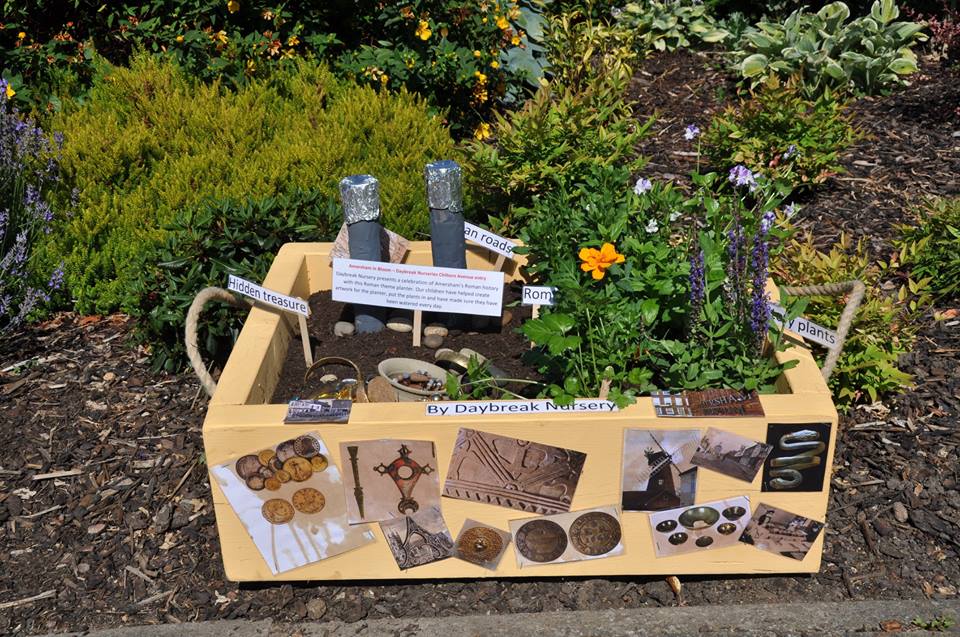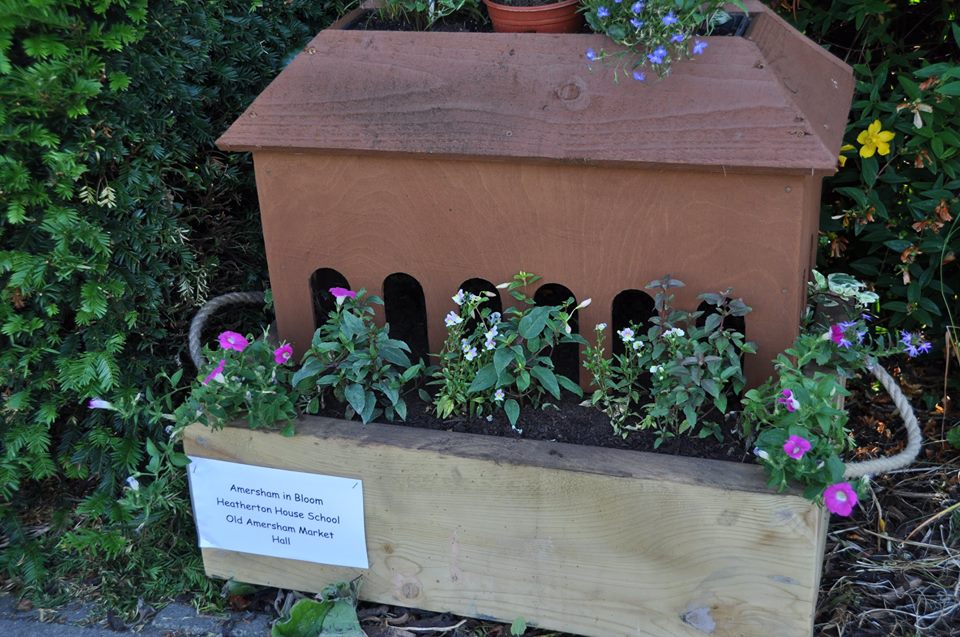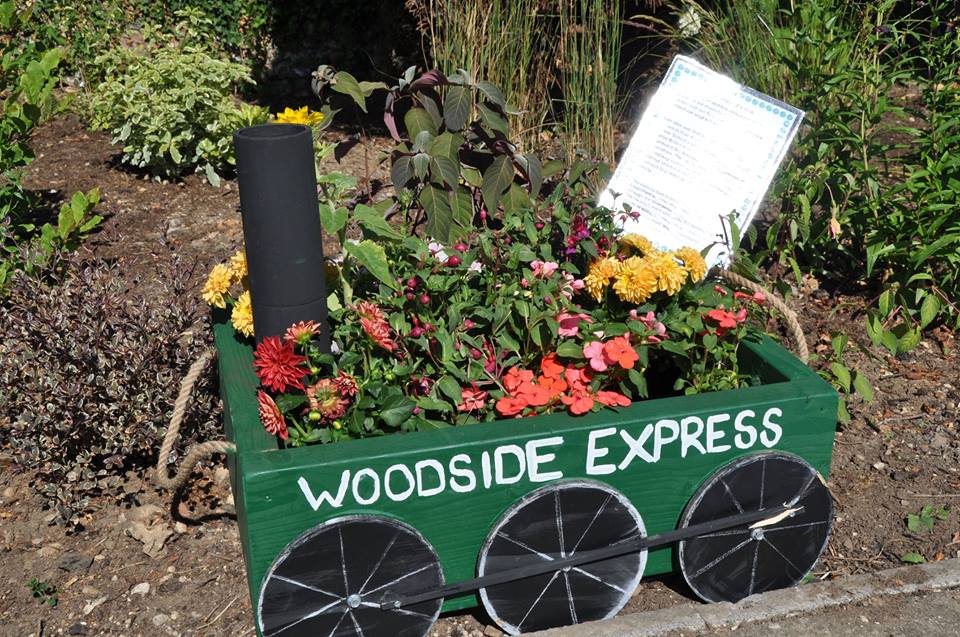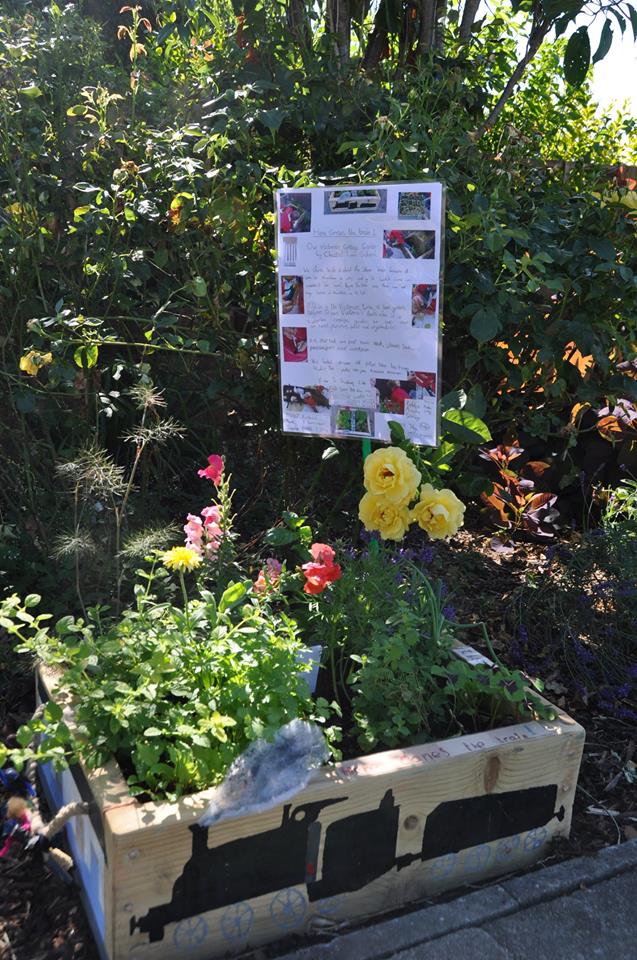 Blooming Butterfly display by Barnett Waddingham!
Michelle Robertson, Regional Office Manager at Barnett Waddingham took time out this afternoon to meet and thank the Town Council and a couple of volunteers for their handy work creating the butterfly flower display in Chiltern Ave.
Barnett Waddingham kindly sponsored the border which adds a 'huge' splash of colour to the verge… Thanks Michelle and Barnett Waddingham
 
New residents at Sycamore Corner!!
Our latest addition to Sycamore Corner offers surprising comfort and some tempting early bird rates…. Thank you Doug and Colin for your masterpiece…..
 
Thanks to Stony Dean School…..
This morning pupils and teachers of Stony Dean School joined forces with Bloom Volunteers and the Town Council to plant the road name signs around Sycamore Corner. We have earmarked 40 roads to plant…. will one of them be your road?
The initiative which wouldn't be possible without the support of the three groups is a wonderful community project.
We are in desperate need of dwarf sunflowers so please feel free to donate any spares that you may have.
 
Teamwork – For the benefit of the Community!
Another great couple of days of planting within Amersham- Lots of colour throughout.. A great effort by the volunteers, Councillors and Town Council staff..
 
Beautiful Wildflower Meadows at Stanley Hill Cemetery…
The large wildflower meadow at the back of Stanley Hill Cemetery, off Stanley Hill looks amazing at the moment (The meadow can be accessed via the footpath beside the cemetery or by driving to the back of the cemetery).
Be sure to pop along whilst it is awash with colour-
It really is a fantastic sight.
 
Horticultural Heatherton House School! – Flowerbed Competition!
The last of our signature flowerbeds was planted this morning. A big thank you to the girls at Heatherton House School and of course our flowerbed designer Hannah Ashby.
A great design which already looks brilliant.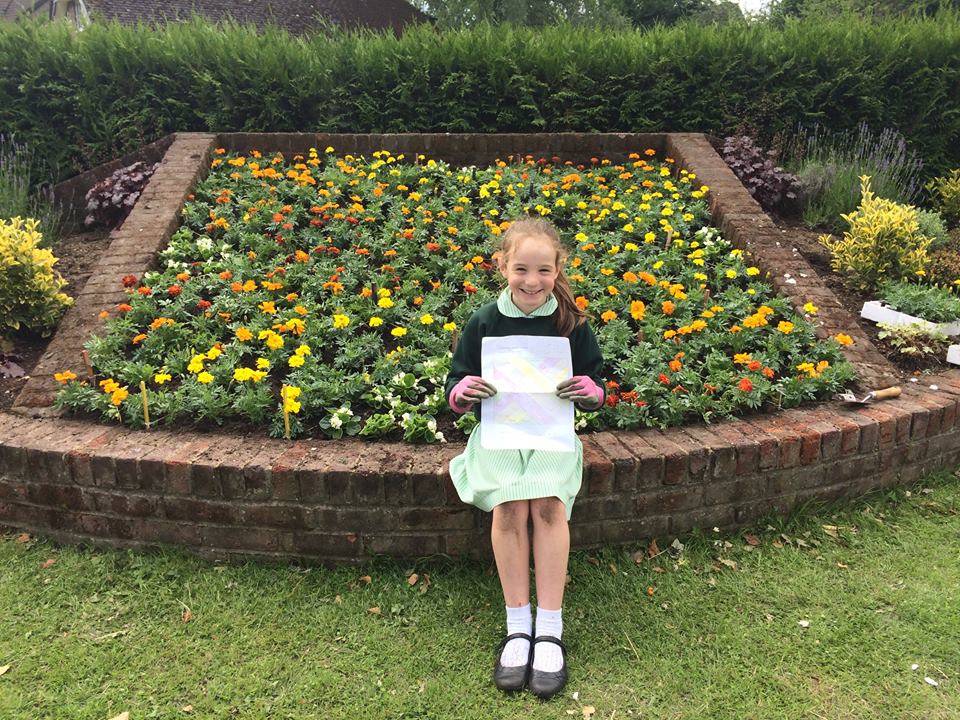 Superb St. Mary's C of E Primary School! – Flowerbed Competition!
Holly McCullough of St Mary's CofE Primary School joined a couple of her class mates to plant the flowerbed that she designed at the bottom of Station Road this morning. A wonderful design- well done Holly.
 
Excellent Elangeni!! – Design a Flowerbed Competition
Despite the rain 'School's design a flowerbed' winner Amaya Narda joined classmates from Elangeni School to plant one of the signature flowerbed at the Boot & Slipper Roundabout this afternoon.
Great design and great effort- well done…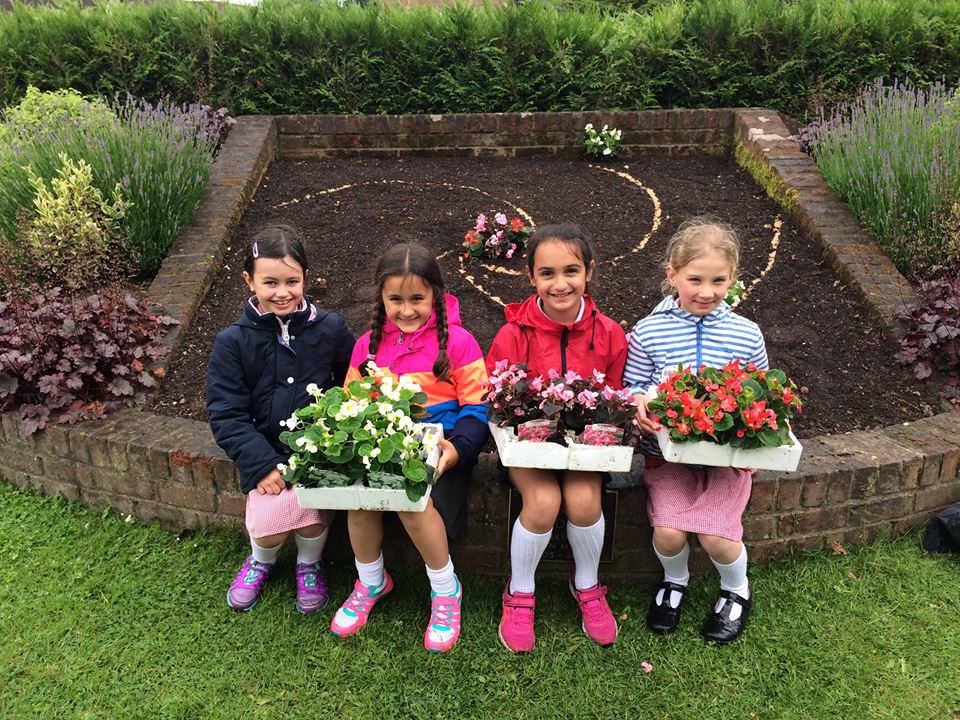 Heritage in Bloom
The first phase of the 2017 Memorial Gardens display is complete..
The theme this year is Heritage in Bloom with the 'Amersham Fair' taking centre stage in the central bed.
A carousel will soon be joining the Market Hall, ferris wheel and helter skelter, which will all be planted this week…
…
We hope that the new display will prove as popular as the Queen's 90th Birthday models..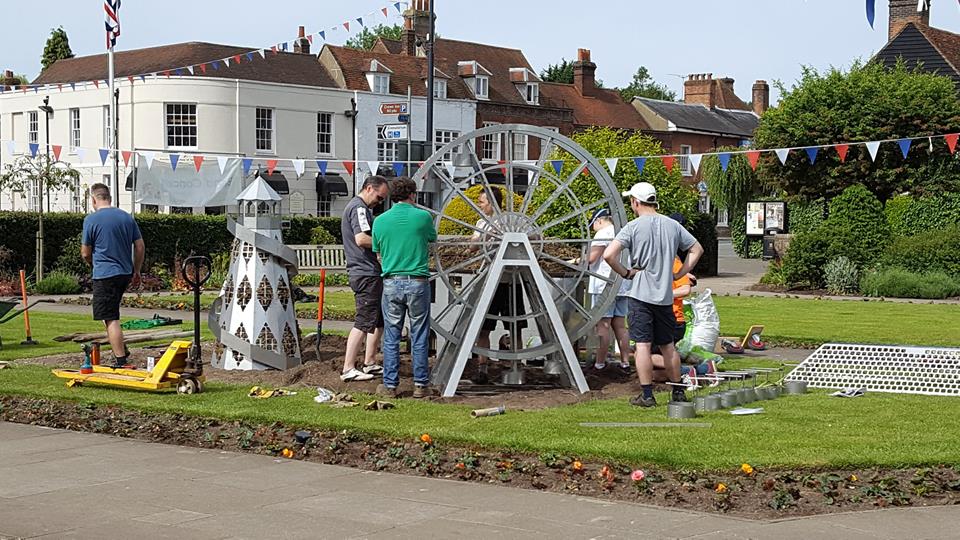 With a little help from our friends……
What a couple of brilliant days it has been….
First up the flowerbed outside Tom Yum was planted with a mixture of non stop begonias (pink, scarlet, orange, yellow and apricot) …… This morning the planters in Sycamore Road were planted, then this evening, with the help of the 2nd Amersham Common Beavers we planted a couple of beds in Woodside Road….
…..Amersham is going to look better than ever this summer…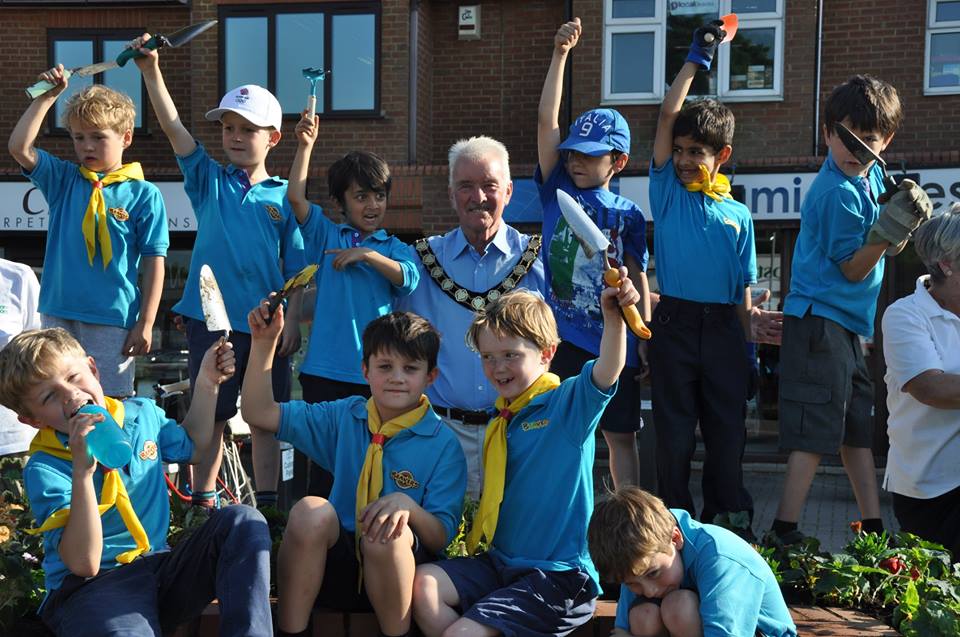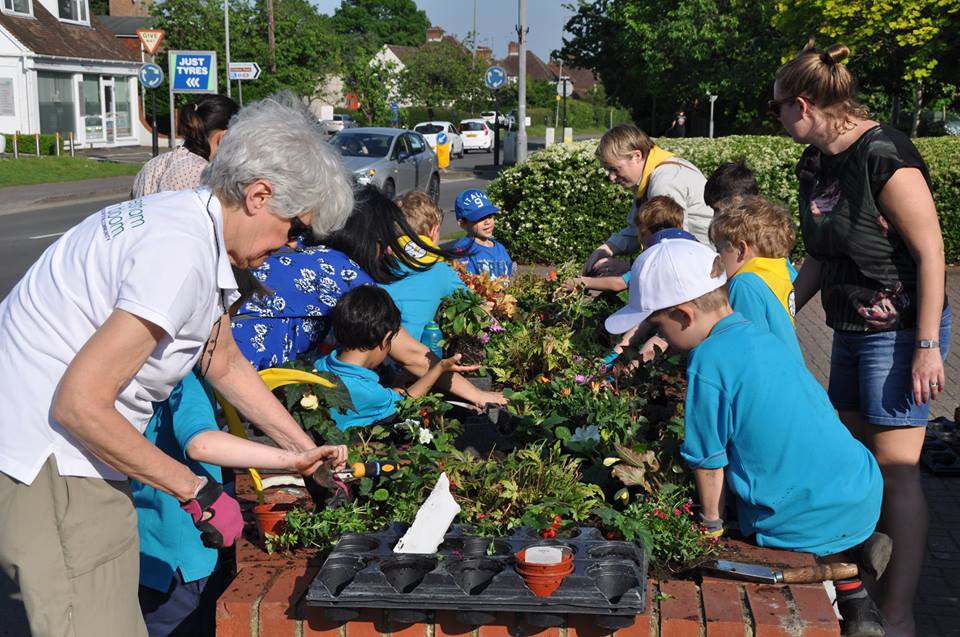 Amber's Signature Flowerbed is blooming!
The first of our signature flowerbeds was planted earlier this week with the help of designer Amber Bolton of Chestnut Lane School. She was joined by other members of the school's gardening club, teachers, volunteers and Cllr Clive Morgan, the Mayor of Amersham.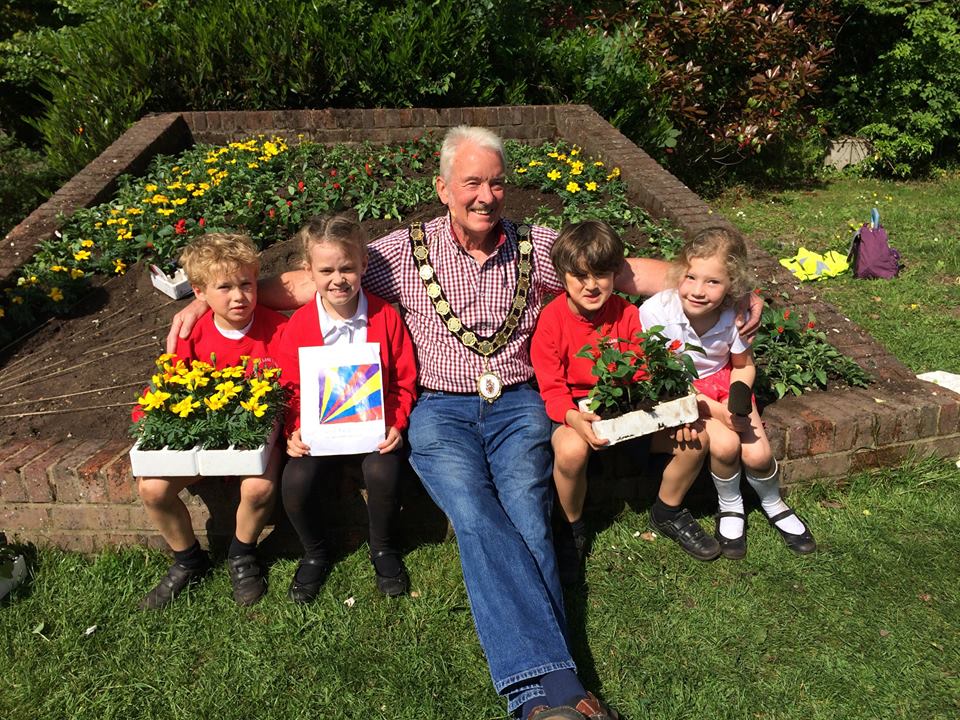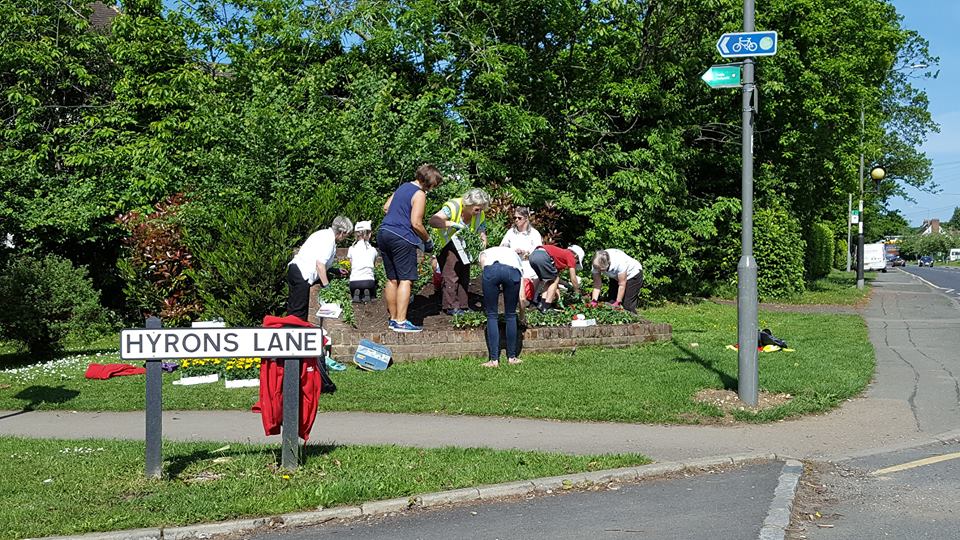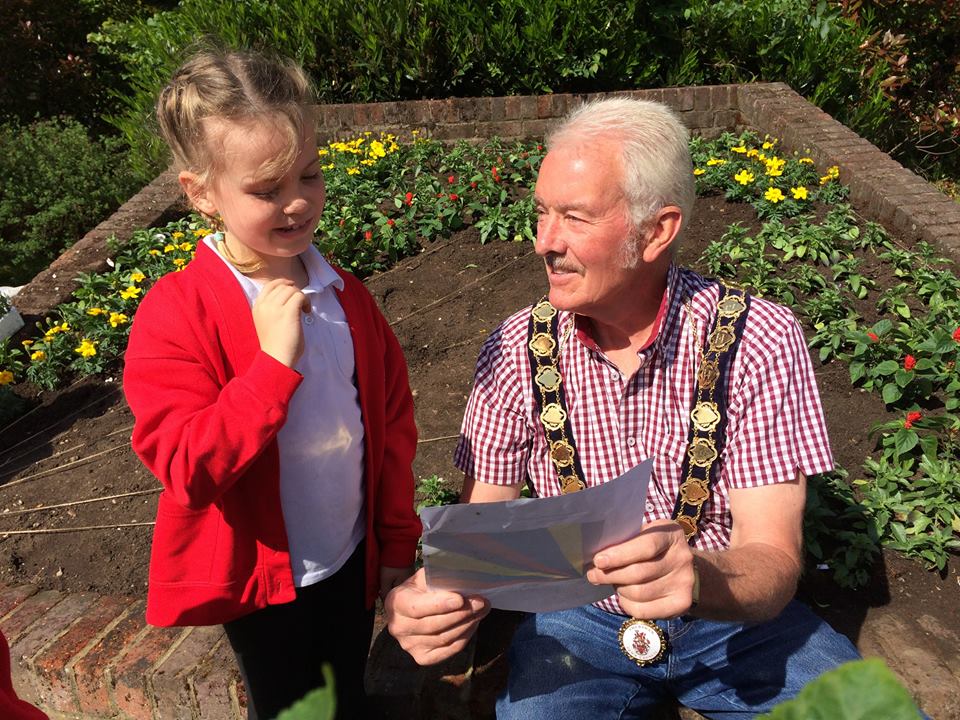 Pondwicks Community Orchard…
Tom and Scott from the Town Council depot team were in Pondwicks Meadow this afternoon mowing grass paths and preparing the patches of ground for native wildflower seed sowing.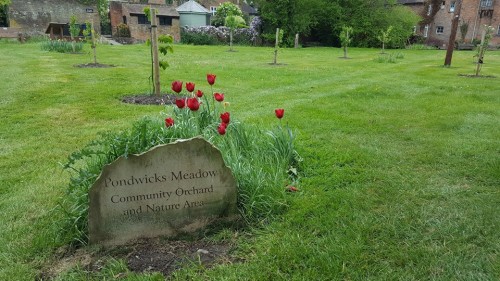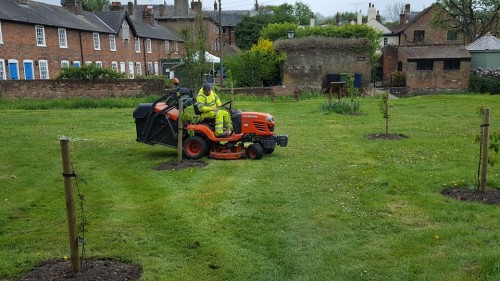 Spring Bulb Photograph Competition – Winners Announced…
It is with great pleasure to announce the winning entries in our 'photograph of a spring bulb(s)' competition. Carole Taylor's wonderful capture of bluebells has been chosen as the winner while her photograph of a single red tulip wins second prize. In third place is Paul Sapstead with his colourful mix of tulips.
Thank you to all of our entrants and to Chalmers Cursley for judging the entries.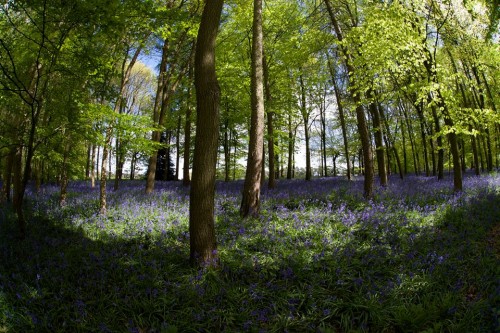 Stunning Street Signs…..
We hope that you are enjoying the tulips that have added colour to many of the street signs around Amersham…
Thank you so much to the residents that sponsored bulbs for their road…
 
Amersham In Bloom – Working in partnership with the Community!
In partnership with the Amersham Society are trialling a campaign to keep Old Amersham Conservation Area (which includes the High Street, Broadway, Whielden Street, Church Street and Market Square) pesticide free. This means asking the shop keepers and residents to weed the cobbles and pavement outside their property. We are also supporting the residents with three clean ups at the end of April, May and June.
A great environmentally friendly initiative that would reap so many benefits if it succeeds.
A special thank you to Chef Patron Laurie Gear (pictured) of the Artichoke Restaurant (Market Square) who was the first to give his patch a spruce up.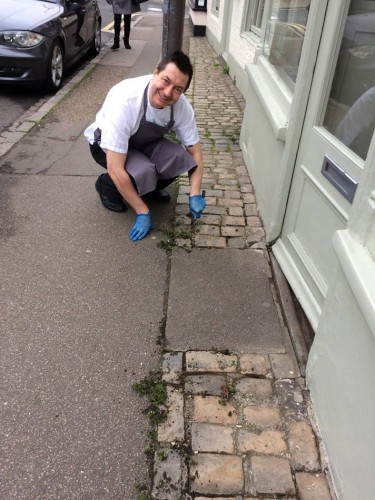 GOLD for Chestnut Lane School…..
Town Mayor, Cllr.Mark Vivis took time out from his busy schedule to present a number of certificates to Chestnut Lane School at their 'well done' assembly this morning.
He presented the school with their GOLD award certificate and prize as winners of last year's Amersham in Bloom Commonwealth Planter Competition. Mrs Tyler and two pupils received a Highly Commended Regional Bloom award, on behalf of the school, in the Mark Mattock Cup, awarded to them by the Regional RHS Judges – …Norman Parker and Anne Kempson – following their visit last summer.
The final presentation of a certificate and prize was to Amber Bolton as one of the four winners of the Design a Flowerbed Competition that was recently judged.
Well done to Chestnut Lane School- a great assembly- and thanks once again to Cllr. Mark Vivis.
 
Team Work!!
Working as a team in the afternoon sunshine…..
Bloom volunteers joined Town Council staff to give the Memorial Gardens a mow and a spruce up..
 
Design a Flowerbed Competition – WINNERS ANNOUNCED!!
With over 350 entries into the schools design a flowerbed competition judging the winners was no easy feat!
We are delighted to announce the following winners:
Amaya Narda (Elangeni School), Hannah Ashby (Heatherton House), Holly McCullough (St. Mary's Church of England Primary School) and Amber Bolton (Chestnut Lane School).
Each of the winning designs will be planted out in one of the flowerbeds within Amersham this Spring.
 
Don't forget to support Amersham in Bloom!!!
Each time you shop in Little Waitrose in Amersham over the next month make sure you pop in a green coin into the Amersham in Bloom Community Matters box… It is certainly a case of the more coins the more improvements we can make throughout Amersham! Thank you!!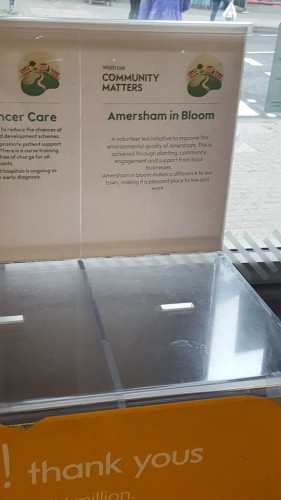 Busy bees at the Depot!
Tom from our depot team has been busy constructing a sleeper planter that we shall be placing in Sycamore Road (corner of Woodside Road) very soon.
A small garden shall be created within the oak planter which as well as adding interest will softening this important gateway to our town.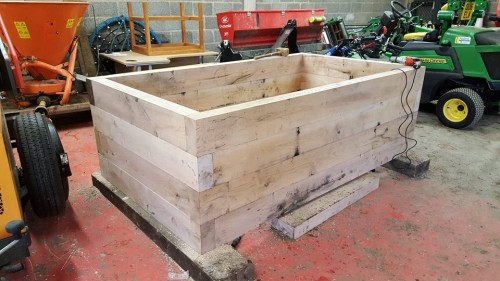 Amersham in Bloom Clean Up Day
Come along and take part in our Great British Spring Clean event this Saturday between 11am and 12.30pm. We shall be handing out bags and litter pickers from our stall outside St Michael's Church.
The national campaign has one simple ambition. To bring together people from across the country to clear up the litter that blights our towns, villages, countryside and coastline.
Join our community event and help improve the environment of our wonderful town!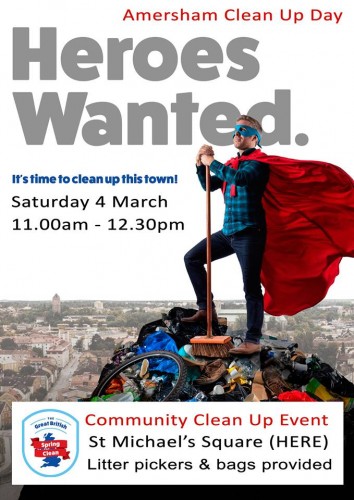 Thanks to our volunteers at Stony Dean!
Five pupils from Stony Dean School spent the morning sanding and preserving a number of the town's benches.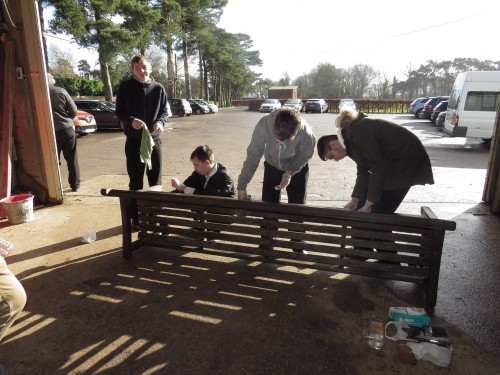 Willow Wood continues to flourish!!…
A wonderful afternoon in the sun planting 500 native trees at Willow Wood (behind Stanley Hill Cemetery). Thank you to the 2nd Amersham on the Hill Wolf Cub Pack for a tremendous effort. Community projects do not get any better!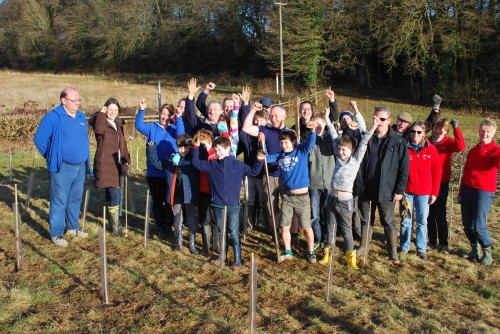 A chance to celebrate and thank Stony Dean School for all their efforts for Amersham in Bloom!

Town Mayor Mark Vivis presented Stony Dean School with their Amersham in Bloom outstanding achievement award at a school assembly this morning.
The award, sponsored by the Rotary Club of Amersham, is in recognition of their contribution to Amersham in Bloom and the community of Amersham over the past year.
A new year for all…..but the work doesn't stop for our fantastic Bloom group..
A great morning in Amersham on the Hill planting the flowerbed outside Tom Yum. We had been waiting for the primrose's to flower and finally they have so we duly planted them! Really brightens up the verge.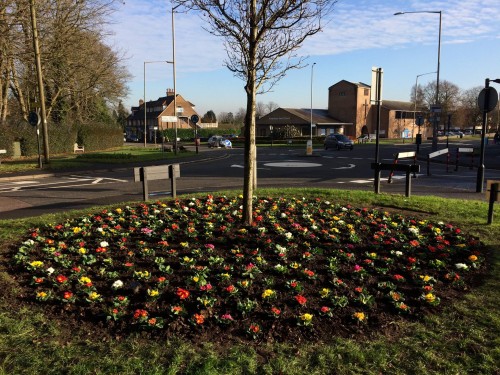 Community effort to transform Willow Wood!
Amersham Rotarians, Bloom Volunteers and Town Council Staff joined pupils from Stony Dean School to plant 300 trees at Willow Wood, behind Stanley Hill Cemetery. The native trees were donated by the Woodland trust and include blackthorn, oak and beech.
Over 2400 trees have been planted at Willow Wood over the past five years…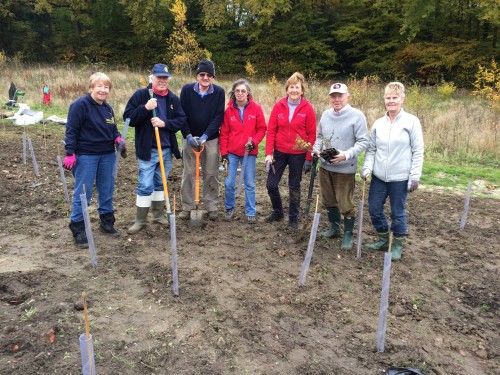 Amersham wins again as our Amersham in Bloom team is awarded Silver Gilt at the Britain in Bloom National Finals!!
It is from a very proud Amersham in Bloom Team we can announce that the Town picked up a Silver Gilt at the Britain in Bloom National Finals Award Ceremony on Friday night in Birmingham…
A wonderful accolade.
GOLD again for Amersham at the Thames & Chiltern in Bloom Awards!
Wow…. Amersham wins gold at yesterday's Thames and Chiltern in Bloom Awards along with being crowned the winners in the Town Category (beating Henley on Thames!).
It doesn't stop there…. We also scooped the regional award for Community Involvement and Pride of Place. What a fantastic afternoon. We are all very proud and hope you are also!….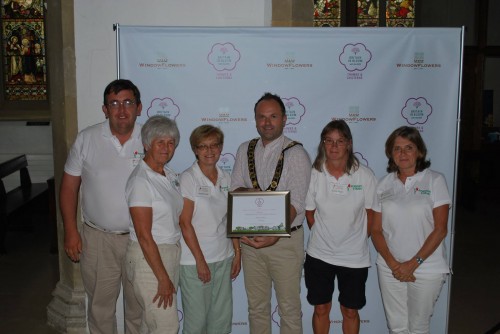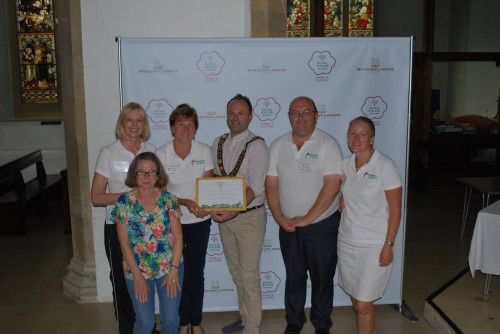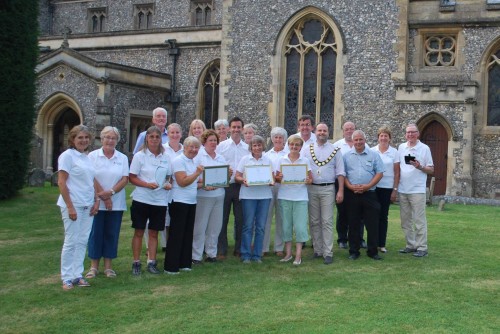 Amersham in Bloom Community Awards Ceremony at this year's Heritage Day!
It is with great pleasure that we announce the winners of Amersham in Bloom Commonwealth Planter Competition.
Woodside School (Fiji) and Lindfield Nursery (Canada) – Silver
Woodlands Nursery (Bangladesh) – Silver Gilt
St Mary's C of E School Nursery (India) and Chestnut Lane School (Tanzania) – Gold
Representatives from a number of the winning schools received their certificates from Town Mayor Mr Mark Vivis at yesterday's Heritage Day (photo above).…
As our main school and nursery competition this year we invited schools to create a commonwealth country within a planter.
Since July the entries have been on display in the Memorial Gardens, where they have created a huge amount of interest from visitors to the gardens.
Thank you to all the schools that took part in the competition.
Congratulations to EDITH! – Winner of our Tallest Sunflower in Amersham Competition…..
After 10 days of measuring and some massive sunflowers, it gives us great pleasure to announce the Edith of South Road is the winner of the Tallest Sunflower in Amersham Competition. Her sunflower measured a massive 350cm in height which smashed the previous record of 316cm which was set last year.
Austin Baker, who was the winner last year was this year's runner up with a sunflower that was just 5cm shorter than Edith's.
Our thanks to the Rotary Club of Amersham for sponsoring the competition which had over 30 sunflower entries which were over 2m in height.
Well done to all the entrants…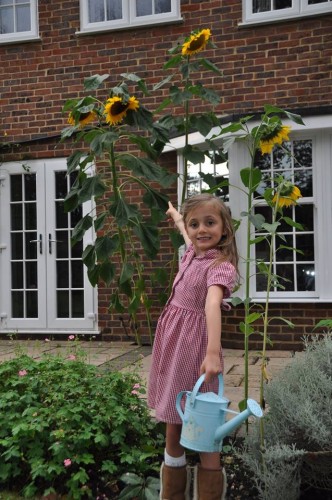 Tallest Sunflower in Amersham Competition…..Closing Date EXTENDED!!
Still time to enter…
We have extended the closing date for the Kid's Tallest Sunflower in Amersham Competition until 12pm on Sunday… If you think that you have grown the tallest sunflower then please email stevec@amersham-tc.gov.uk
Will we beat the Amersham record which stands at 316cm?
A prize will be presented to the winner by the Mayor of Amersham at Amersham Heritage Day on 11 September…
Thanks once again to the Rotary Club of Amersham for sponsoring this fun and popular competition.
RHS Thames and Chiltern in Bloom Judging
The RHS Thames and Chiltern in Bloom Judges were in town on Thursday to assess Amersham for a Regional Britain in Bloom Award.. Fingers crossed we impressed them.. The big one… The National judging takes place this Tuesday.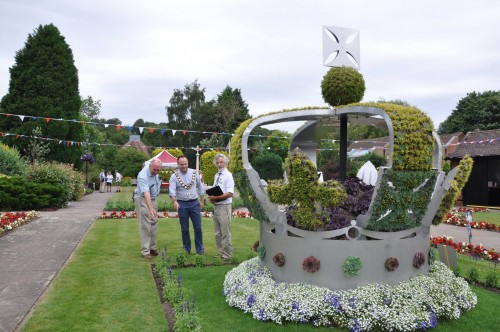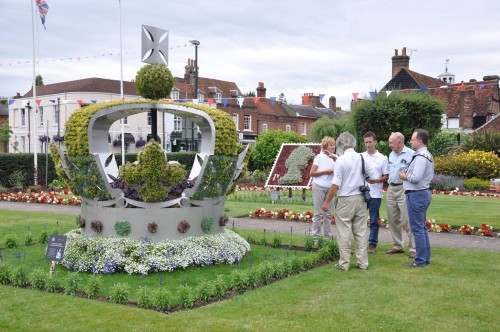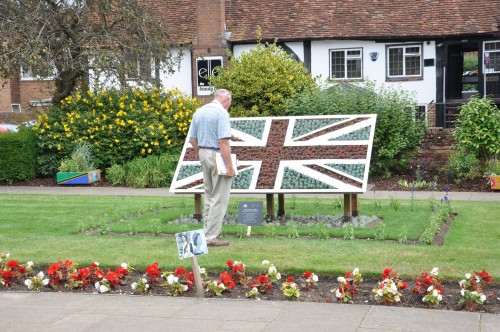 The Queen's Herb Garden
The volunteers, Town Council Staff and Councillors were out in numbers today as the Memorial Gardens was given the once over… They are looking fabulous so pop along to see them if you haven't already!
We were also joined by pupils and teachers from Stony Dean School this morning who assisted in planting our final bed- the Queen's Herb Garden.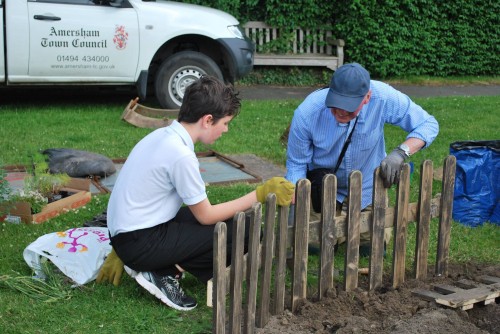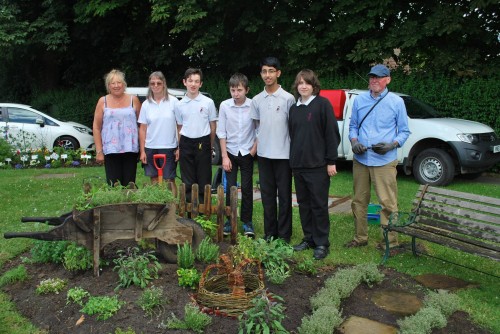 We Need Your Help….
We believe that Amersham is looking more beautiful by the day and as one final push prior to an imminent visit from the RHS Regional and National Judges (28th July and 2nd Aug), we are giving Old Amersham a weed this Sunday (24th). Why not join us between 9am and 12pm where we shall be sprucing up The Broadway and High Street.
Gloves and tools will be available from our stand beside the Market Hall.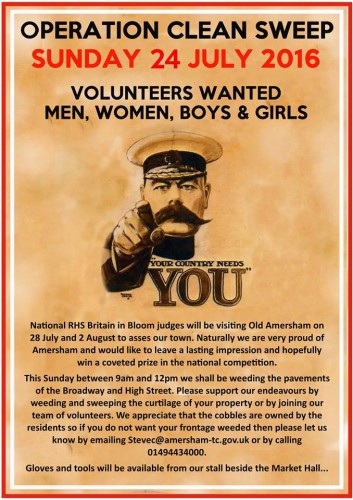 On the hunt for a bird bath
Our search for a bench has been successful, however, we now require the final pieces in the jigsaw to enable us to complete our flowerbed. If you have a bird bath that you no longer require or have a herb in you garden that you wish to donate then please comment below, email stevec@amersham-tc.gov.uk or drop them off at 177 Stanley Hill.
Help us create our herb bed at Sycamore Corner!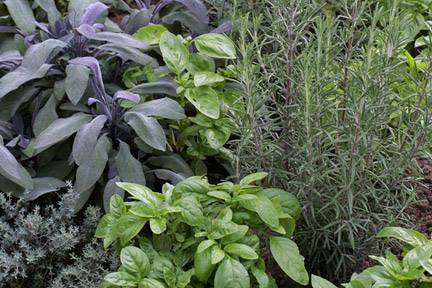 Sycamore Corner
We have one final bed to plant out in Amersham (at Sycamore Corner) which Stony Dean School is helping us create. Within the bed we are looking to add an rustic iron (or wooden) bench or wooden wheelbarrow… If you have either and would be happy to donate the bench or barrow to Amersham in Bloom then please comment below or call Steve Catanach on 01494 434000.
Please share with your friends to help with our search. Thank you.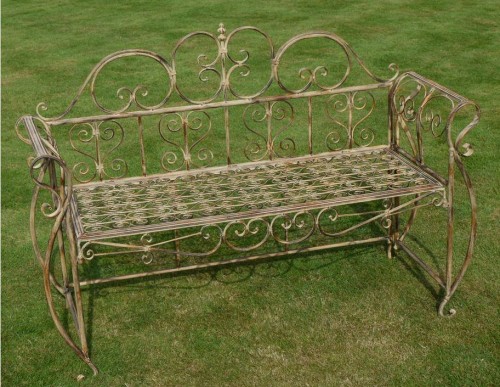 Photo of the Day
A great photo of the Memorial Gardens taken this morning by bloom volunteer Carole..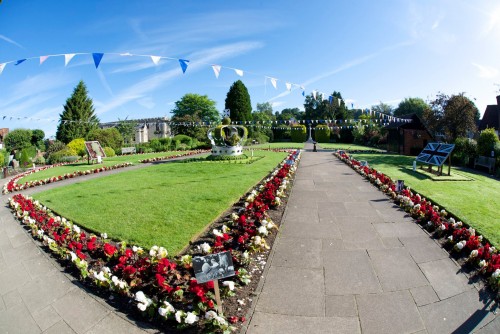 Amersham in Bloom Horticultural Show
Show us your support by entering our Amersham in Bloom Flower, Fruit and Produce Show which is taking place at the Amersham Carnival this Saturday. It really is a fun competition with classes for everyone…
Click on the following link to upload a show schedule.
…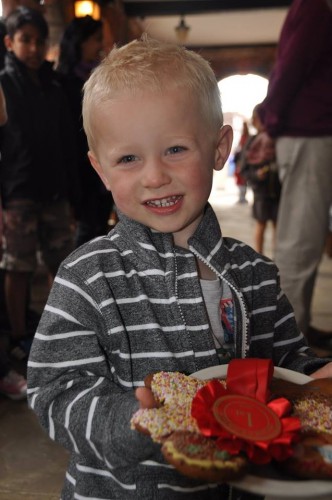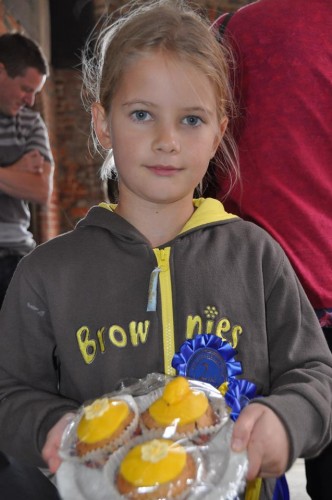 Memorial Gardening
This weekend volunteer bloomers, Town Council Councillors and staff- joined forces to make further improvements to the Memorial Gardens. Thanks to the skills of Carole we have a new topiary garden while the front border was also planted with a mixture of shrubs and perennials. A great effort!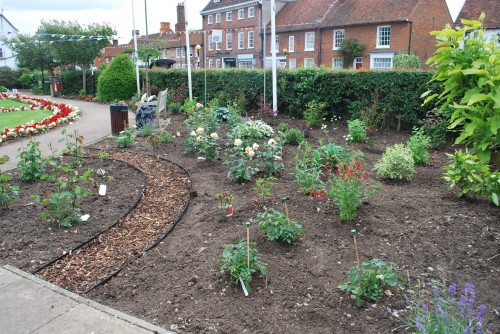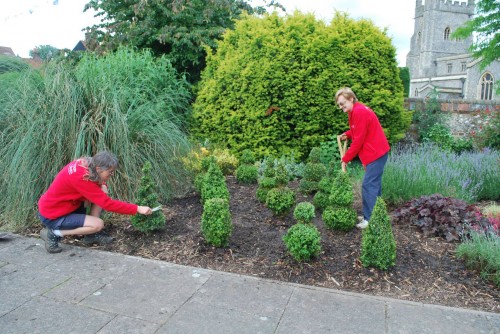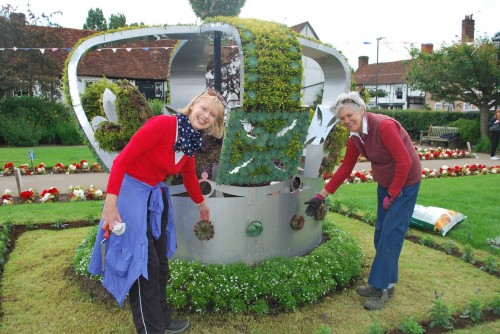 Amersham Clean Up
In association with the Amersham Society we gave Old Amersham a spruce up this morning with the first of our clean ups in the Old Town. A big thank you to the residents and visitor (yes we had a visitor help out whilst his wife shopped) that joined our litter pick.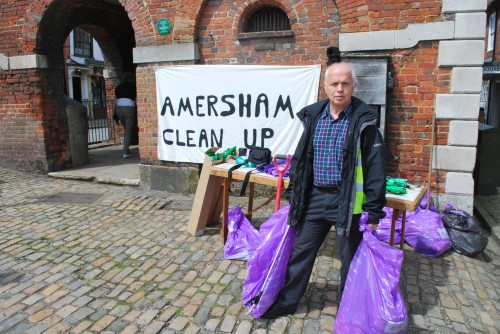 Amersham Strikes Gold at Bloom Awards
The Town Council is delighted to announce that Amersham  has been awarded GOLD at the recent Britain in Bloom Award 2015 presentation ceremony. This is the first time that the town has achieved gold in two consecutive years.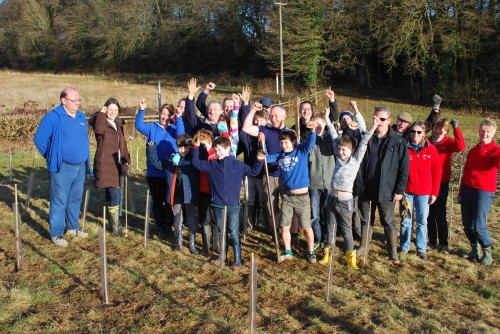 Amersham also won two Thames and Chiltern  in Bloom Regional Awards–  one for conservation and wildlife and the other for the display in the Amersham Memorial Gardens.
It has been a fantastic year and as a group we are so pleased to have continued to add further vibrancy to Amersham with striking  planting, huge hanging baskets and additional colourful displays. This year has also seen the planting of sunflowers around many of our street signs which have received so many favourable comments.
The group are proud to have received the award for the Memorial Gardens, demonstrating how working together as a community can achieve great results. The beds were designed by the Bloom Group, planted by the Town Council Depot, maintained by the WI Amersham Angels, Bloom Group and Town Council Depot staff, sponsored by Van Hage while the wonderful wooden great event models were constructed by the 1st Chesham Bois Scout Group Leaders.
Bloom is a year round initiative and you may have spotted volunteers planting the tubs, beds and borders over the past couple of weeks. We are very proud of our volunteers and they do an amazing job in keeping Amersham beautiful.
Why not join our team of volunteers
You don't need green fingers to get involved – but you do need to get your hands dirty! Amersham in Bloom is looking for volunteers to help plant and tend the tubs and planters in Amersham on the Hill and Old Amersham.
Even if you only have the odd half hour, there is lots to do for all ages and abilities. Amersham in Bloom is not all about the plants – it's about volunteering in the community to bring colour and make our town a better place to live. So get involved – make great new friends – and we might even take you for a drink!
For more information, please call the Town Council or email Steve at stevec@amersham-tc.gov.uk