Amersham Carnival & Town Show 2016 – Huge Thanks to All Who Attended!!
AMERSHAM CARNIVAL & TOWN SHOW 2016 – THANKS TO ALL WHO ATTENDED!
What a fantastic day was had by all at this year's Amersham Carnival & Town Show on Saturday 9th July 2016! The weather behaved impeccably and despite the risk of some showers, sun rained down on King George V Playing Field to ensure we had a fantastic fun family day out!
The RIO themed Procession was a triumph with so many colourful costumes & designs, with this year's judging being carried out by Mayor of Amersham, Councillor Mark Vivis along with his Deputy, Councillor Clive Morgan & Mrs. Christine Deppart – Head of the Council of Bensheim – our twin town.
ATC are delighted to announce this year's Procession winners are:
1st Place – 1st Chesham Bois Scout Group
2nd Place – Woodside School
3rd Place – Revelation Majorettes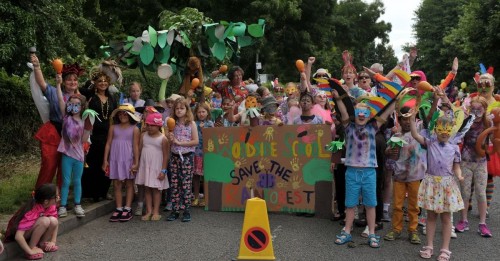 Woodside School's fantastic Procession group, who we are delighted to say achieved 2nd place overall in this year' Procession
We would like to thank all the schools, businesses and community groups who took part for their enthusiasm and commitment to this year's event!
ATC were again overwhelmed by the popularity of our Copacabana Beach! The sandy beach was packed from start to finish and we would like to thank this year's Beach sponsors – Gatsby & Miller, Wilkins Kennedy LLP, Hadlands Estates and Tescos for their kind donations of sweets, buckets and spades, goody bags, beach balls and so much more!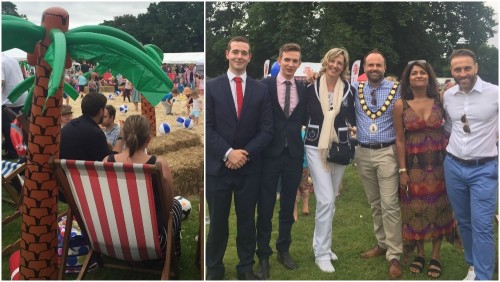 Copacabana Amersham officially opened by Mayor of Amersham – Councillor Mark Vivis and Head of Bensheim Council – Mrs. Christine Deppart
Pictured with sponsors: Vee Bharakda – Wilkins Kennedy LLP, John Roads – Gatsby & Miller and Joe Freeth (and colleague, Rupert) – Hadlands Estates
There was a great variety of community stalls & business stalls, food stalls including Village Mangel and Café Africa as well as live music and performances from Maggie Monk School of Dancing, Revelation Majorettes, Churches Together and Carol Connor's Dog Fancy Dress Show!
The Organising Committee made up of Amersham Action Group, Amersham Round Table and Amersham Town Council very much hope that everyone who attended had a very enjoyable day and let's hope that we can continue the Amersham Carnival & Town Show revival next year!
P.S – KEEP YOUR EYES PEELED FOR UPDATES ON NEXT YEAR'S EVENT!